To support our statement that you should definitely care about TikTok, we'll share some reasons to get TikTok, starting with comparing Instagram and Tiktok's userbase evolution. After being released in 2010, Instagram reached an average of 500 million active monthly users after six years. It took TikTok less than half the time to pass this milestone since they were celebrating over 520 million active users on their 3rd anniversary. With most of the users living in Asia, the western market has only just started to take off. So, if you still think that TikTok is nothing but a temporary phenomenon, this article hopefully will change your mind. And while we dive headfirst into the world of TikTok, don't forget to download the App and follow our freshly created account @community.neontools.io. This way you won't miss out on anything that is coming in the future.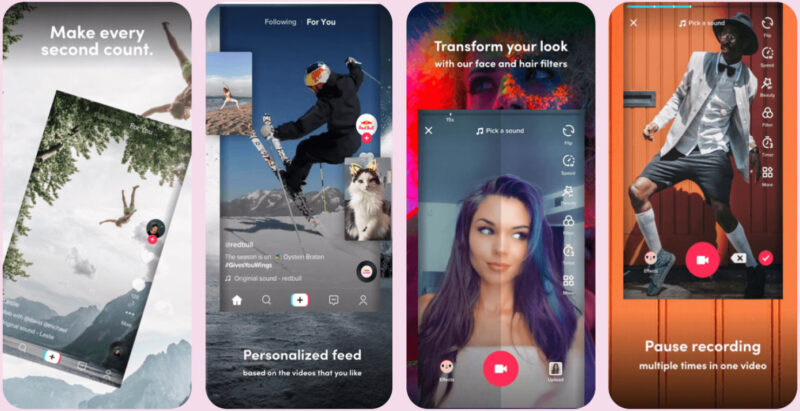 TikTok is successful everywhere and it's no surprise
It takes a lot for a new Social Media platform to gain noticeable traction in this day and age. When "older" people (25+) talk about SM, they usually mean Facebook and Instagram, or maybe Twitter and Snapchat. Here is where the thought process ended for most users in the last years, until today. Now it seems like everyone is at talking about TikTok or has at least heard of it recently. This rise is partly because TikTok managed to do something that no platform has succeeded in before, which is getting early traction in both the eastern and western markets. In fact, we believe that we cannot emphasize this enough. Although the Chinese and Western versions of the app are slightly different in terms of censorship (the Chinese version of TikTok is called Douyin (抖音) and runs on Chinese servers) both apps work in (almost) the same way. But of course, there's more.
Many things have to come together to succeed with this new Social Media Platform, there is one crucial point: Satisfy a need.
"See a need, fill a need."
The way most users, and especially the younger generations, consume Social Media platforms has changed a lot. Nobody wants to scroll through hundreds of irrelevant and boring posts on Facebook or thousands of posed images on Instagram, only to find that one funny and entertaining piece of content. The content needs to be immersive and actively consumed (reason to get TikTok). Therefore, Instagram and Facebook are trying to switch the focus actively on their Story feature right now. Unfortunately for Facebook, TikTok took this exact concept and pushed it to the next level. By doing so, they hit the right nerve and claimed this territory for themselves. Facebook and Co need to come up with something new if they want to stop the upcoming user-migration.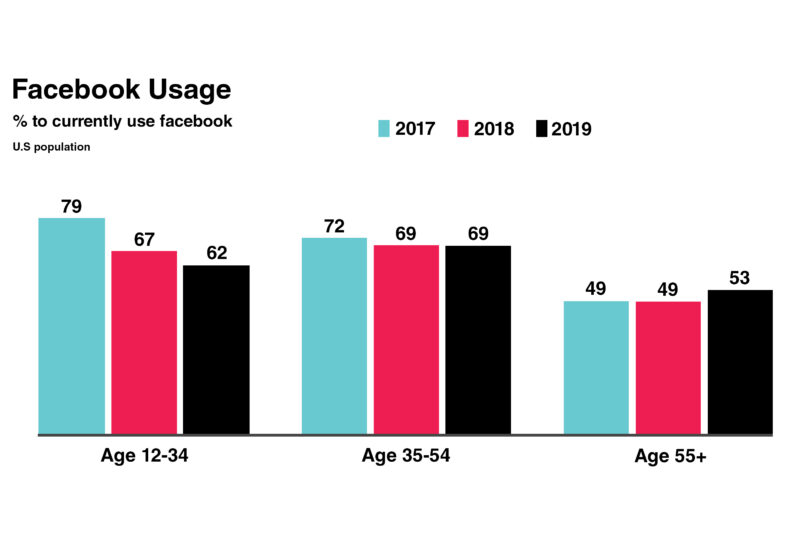 First and foremost, because TikTok does a lot of things right when it comes to giving their audience what they want and need. Users have a sheer unlimited amount of features and possibilities to design and use their content in a unique way. An additional strength of TikTok is the massive amount of User-Generated Content you find on here. We crowned TikTok the Ultimate UGC Champion in our User-Generated Content article for a reason. And this is by no means a coincidence!
TikTok actively develops new ways, so people create and creatively publish their content. The vast majority of people still believe that TikTok is only a lip-syncing music app, but they couldn't be further from the truth. It will only take you 2 minutes on the app to realize this. TikTok became the short-video-monopoly that Vine failed to be in 2013 because they could not finance the project.
If changing needs is maybe the number one reason a new platform could gain a foothold. Do you think it was a surprise that a short-video sharing platform that fills those needs becomes the next big thing?
One platform to please them all
In 2004 Mark Zuckerberg created TheFacebook and connected students of Havard and other universities with each other. Back then it was a need for students to find out who goes to which university, what do the girls (or boys) look like on that campus, and so on. Fifteen years later, Facebook evolved to the biggest Social Media channel the world has ever seen. But is it possible to still satisfy the entertaining needs of all humanity with only one platform? The answer is no. Facebook has become a place where people communicate and share information. And in this niche, the platform works great.
On the other hand, Facebook was never really the best place to share your amazing photos or videos. The people who knew this the best are the guys from Facebook themselves. These insights led them to buy Instagram in 2012. They paid 1 billion dollars for a startup based on sharing pictures with the community. The needs of many users shifted from pure information-sharing to image-sharing, and Facebook just wasn't a good base to follow this trend efficiently. Today Instagram is THE platform when it comes to quality photographing and self-promotion. Unsurprisingly, the demands of the users changed again. Especially teenagers and kids have had enough of the perfect pictures and fake stories that tried to sell them something. This unconscious cry-out to something new was the hour of birth for TikTok and is why you should download TikTok.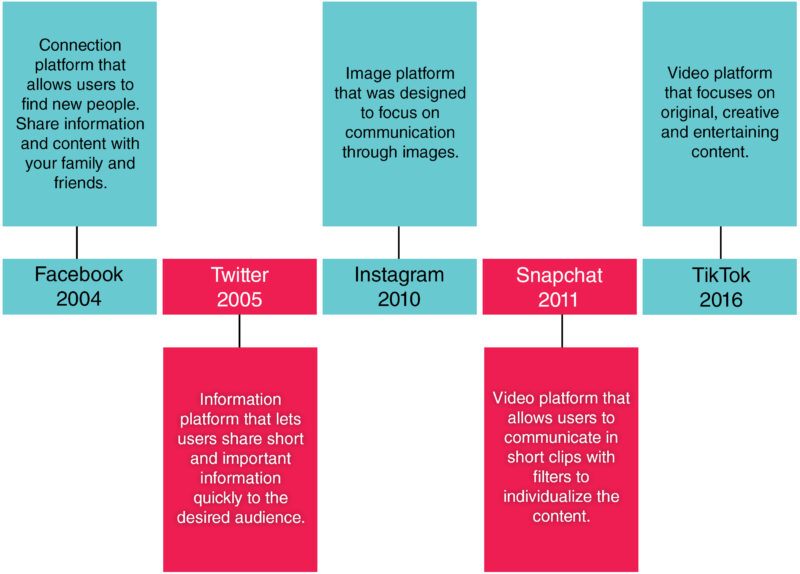 And of course, in the fashion of 'Oh shit, here we go again!' Facebook also tried to buy Musical.ly, the predecessor of TikTok. Later the Chinese tech giant ByteDance purchased Musical.ly, who, in the end, turned it into the platform Tiktok. It was a desperate try by Zuckerberg to connect to the Asian market and, at the same time, reach an even younger audience. So don't be fooled by Mark Zuckerberg's statements about Tiktok being a bad thing, because he would have done the same if they sold Muscial.ly to him.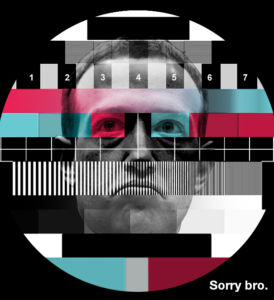 TikTok's rapid growth and current state in the world
Very recently, TikTok's App passed a worldwide download threshold of 1.5 billion downloads in stores like Google Play Store or Apple App Store. Since 2018 TikTok is in the top 5 of downloaded Apps (non-games) worldwide pretty much every single month. This trend still holds today, where the App is beating Instagram regularly and even keeps up with giants like Facebook. Right now, at the end of 2019, TikTok is often the number one downloaded Social Media App of the month. In October 2018, it was the first Chinese app to ever be the most downloaded app in the US. This tells us that the numbers keep climbing fast, and no end is in sight so far.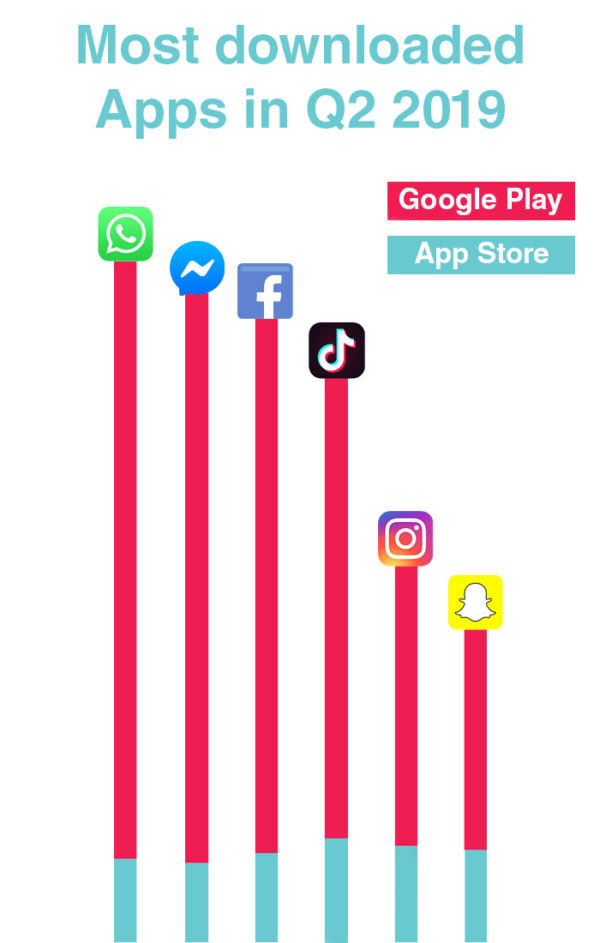 The mere number of downloads doesn't say a lot about the active usage of a Social Media platform per se. To dig a little deeper into the everyday use of the platform, we could also compare the time spent per day on each one of them. There is almost no difference in the average usage time between Facebook Instagram and TikTok. Facebook is the leader with 58 minutes per day, followed by Instagram with 53 and TikTok with respectable 52 minutes.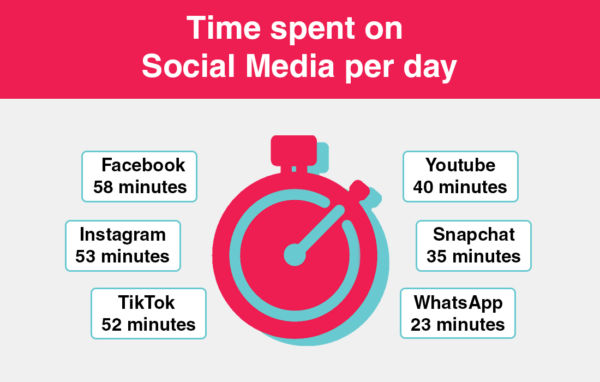 Many other signs forecast a continuous increase in popularity. A significant indicator for us personally was a direct insight we gained on the Chinese story-writing market through a friend from the industry. She explained to us how chinese companies are hiring thousands of TikTok-story-writers. She assessed that this market is going crazy: professional movie story writers are being hired to write short stories only for TikTok now. If we bear in mind that the western market hasn't remotely grasped TikTok's full potential yet, we can only imagine how far all of this will go from here on.
Users will grow with TikTok
As soon as you start a conversation about TikTok, you will hear someone say: But only kids use this app. Admittedly, the present audience is pretty young, with 41% being between the age of 16 to 24. However, as the platform evolves, older users will join this trend. Inevitably, they will have an impact on the content and public perception of TikTok. This was true for every other Social Media platform so far. We don't see any reason TikTok would become an exception here. In case you plan on being an early adopter and want to benefit the most from the platform, you need to hurry up. TikTok is about to take over the western markets, and soon you will be one among many others which is why you should be on TikTok asap!
Conclusion
No matter which way you turn it, Tiktok's rapid growth proves that it is becoming a big player that is about to stay for a while. The general user at this point is quite young. Nevertheless, we believe that we will see a significant shift in the future concerning the overall audience. As the substance of the platform evolves, the quality of content will improve. Soon more people and brands will recognize and appreciate the chances TikTok offers.
If this article was helpful, subscribe to our newsletter for more:
or follow us on Social Media