If you're living in the US or Germany, the chances are high that you've come across the Internet's latest hype app already – Clubhouse (sorry, Tiktok!). After its initial success in the elite spheres of the Silicon Valley in the spring and summer of 2020, a viral growth hack initiated by the hosts of the "Doppelgänger Tech Talk" podcast led to an unprecedented spike in downloads and active users in the German-speaking countries of Europe within the last two weeks.
If you're not quite sure yet what to make out of this new trend of "Social Audio," don't sweat it – it surely is a lot to digest at once as praise for and concerns about the app go hand in hand. 
What is happening?
In early 2020, Silicon Valley entrepreneur Paul Davison and ex-Google employee Rohan Seth started Clubhouse as a new audio-first social app that makes it easy to talk to other people. The way it works is quite simple: Users open or join so-called 'Rooms' where all that is happening is a type of audio-only panel discussion. The topics discussed are up to the "Moderators" (think 'hosts') of the rooms.

To put it even simpler: People talk about stuff they are interested in, while others listen to that for as long as they want. The real hype is around the rooms open to all users where celebrities or influencers of all kinds share their views and wisdom.
Upon joining an active room, you're part of the audience (that is always on mute). If you want to add something to the discussions, you can virtually raise your hand, and the hosts can add you to the 'stage' where you get the chance to say what you have to say. However, if you prefer to talk with someone in private, you can do so in 'locked' rooms too.
People can move easily between conversations as speakers or listeners, delving into a big variety of topics (ranging from entrepreneurship and politics to sports and music and whatever else people want to talk about).
Important notice in this regard: So far, the app can only be used on Apple's iPhones. Clubhouse announced it is also working on an Android version though.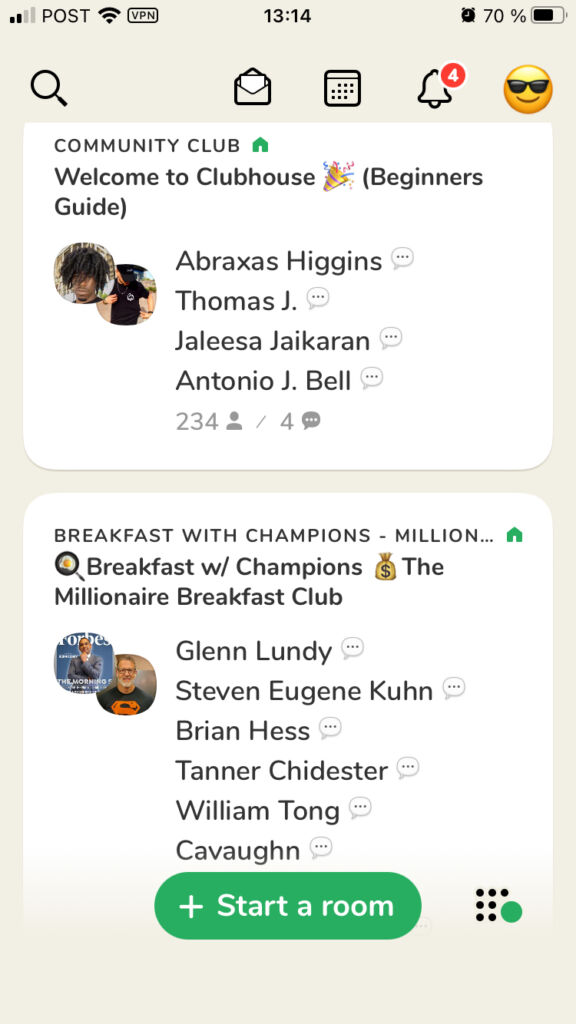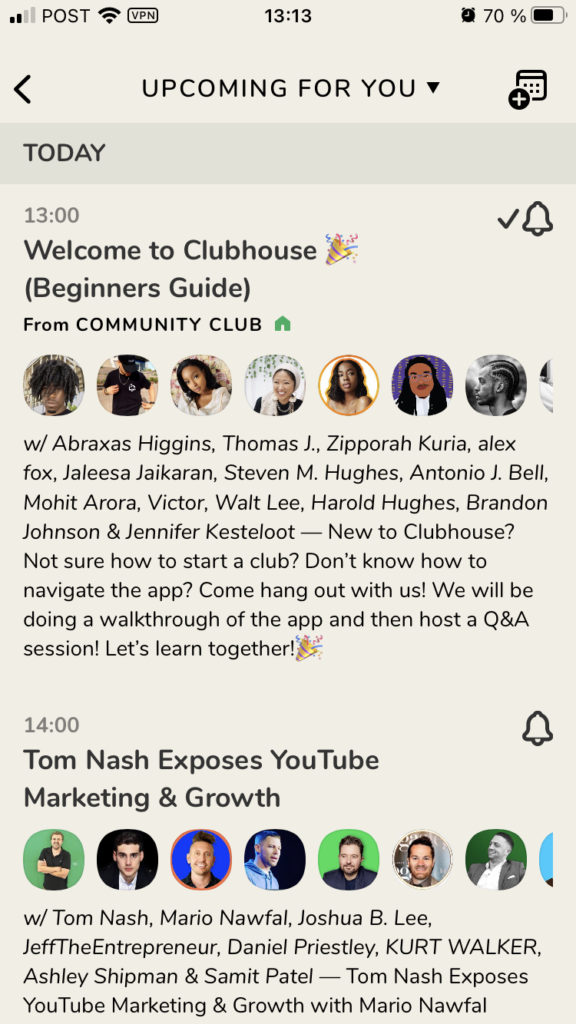 What the app looks like from the inside
From Talkshow to Clubhouse
Founders Paul Davison and Rohan Seth started Clubhouse after they had experimented with a new product for making podcasting easier, which was called "Talkshow". After taking the turn to develop Clubhouse instead, demand for the app quickly skyrocketed as it immediately caught the attention of "Tech Twitter" (the filter bubble of US tech founders and investors on Jack Dorsey's popular social network). As so often when new products get successfully tested within the Silicon Valley's startup ecosystem, investors quickly expressed their interest in joining the ride. The result: an initial $10m investment by iconic venture capital firm Andreesen Horowitz at a valuation of $100m in May last year.
Side note: Quite impressive as the app only had 1,500 users at that point.
But in addition to leading voices of the US tech scene, big names like Kevin Hart or Drake were also already among the app's early adopters back then. Besides the influx of 'stars,' Clubhouse's exclusive, FOMO-creating feature of users only being able to join the social audio network when they get one of the limited invitations to do so by an existing user led to quite the buzz around it – but also lots of controversies.
After the early hype started in the US, it didn't take long until first users raised concerns over, e.g., toxic, racist, and sexist conversations taking place in the virtual rooms. Not to mention the phenomena of 'moaning rooms' (we'll leave it to you to find out what that refers to…). 
First the US, now Europe
What was somewhat of a random turn of events recently, though, is the circumstance that Clubhouse's popularity has also exploded in Europe. According to our own research, the hype seems to have manifested itself more or less only in the DACH countries so far, in particular Germany (which now accounts for major additional traffic on the app at a rate of around 25% of the usage in the US). According to some digital experts and media sources, it seems like the hype is also starting to grow in the Czech Republic. And, in fact, we also see some growing interest in our beloved Grand Duchy of Luxembourg.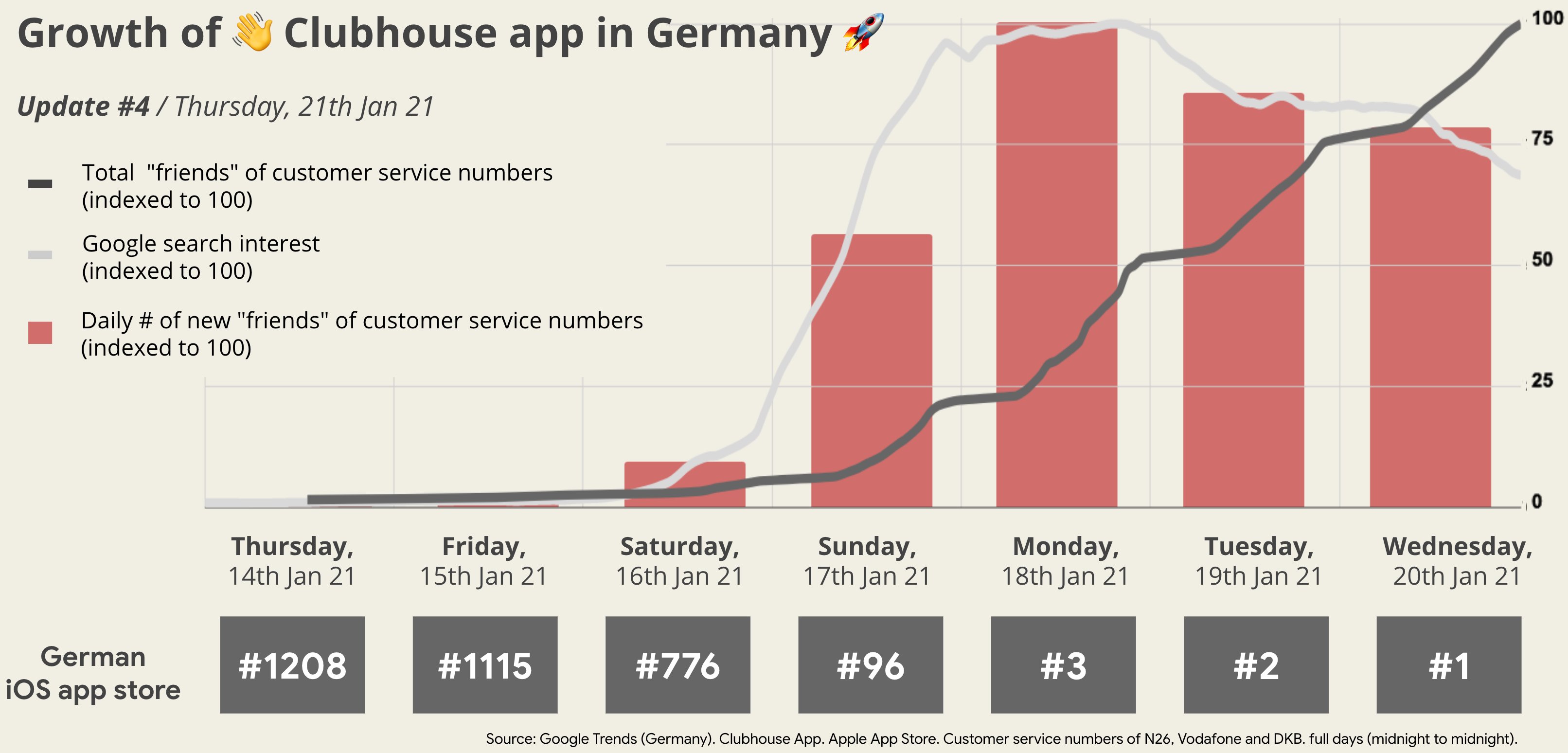 Source: Björn Müller (Google) on Twitter
Why is it happening? 
As mentioned already in the intro, the current hype in Germany can actually be credited to a small circle of people that managed to leverage their influence in the local tech/startup/marketing scene.
According to OMR.com, "Doppelgänger Tech Talk" podcast hosts Philipp Gloeckler & Philipp Klöckner wanted to push the adoption of Clubhouse in their home country as they had 'fallen in love with the product' shortly after having gotten their own invites. With the help of a dedicated Telegram channel, they created some real virality by encouraging its members to invite others – under the condition that they share their invites with even more people. The exponential growth they caused has led to probably more than 100k users in Germany since the beginning of January.
But to fully understand the current development, it is important to look at the app's capacities in light of the underlying trends happening in the world of social networks and digitalization as a whole. 
What makes Clubhouse so popular
A few reasons that have made Clubhouse so appealing since it was launched:
the renaissance of audio as a content format 

audio content that goes beyond 'normal' podcasting

the combination of audio content and social network features 

a lot of people love to talk

a lot of people love to listen to other people talk

the air of 'exclusivity' around the app because of its invite-only access

the COVID-19 pandemic taking away the usual opportunities to chat and discuss in person at private or public events

interesting people discussing interesting topics

the possibility of listening to the audio chat rooms while doing something else

the app suggests interesting Rooms based on your preferences

no 'Like' buttons or comment sections (except the things people say in the discussions)

listeners can actually engage with the hosts and add to the conversations

the rise of the Creator Economy
What to make of it?
To say it right away: It looks like 'Social Audio' is here to stay. When analyzing the landscape of digital content formats, it appears that the type of audio content and engagement possibilities that Clubhouse is providing is actually the missing piece in the universal content mix.

On the one hand, platforms like Facebook, Instagram, Medium, YouTube, or TikTok are the fundamental infrastructure to access content by private individuals, professional creators, and companies alike. And, on the other hand, the content shared on these platforms is either text, video (both short – and long-form), images, or long-form audio. Until now, there was no interactive short-form audio content (even though Clubhouse talks can go on for hours, you can listen to them for as little as a few seconds or minutes). The point is: It seems like podcasting is having its TikTok moment.
Audio is back
Ever since the invention of the radio, it is obvious that audio content has one inherent quality that sets it apart from all other forms of content: When listening to someone else talk, you get the feeling that you are part of something. Our voices naturally create a sense of closeness, which is why podcasting, in most cases, feels very human and personal. On Clubhouse, you might actually think that you're part of something bigger when listening to 'thought leaders'. It's easy to perceive the setting as 'exclusive' and 'intimate.' Moreover, having the chance to engage with the 'leading voices on the stage,' leaves room for serendipity and creativity – at least in theory.
How can you benefit from Clubhouse? 
As always, when it comes to digital platforms, there are pros and cons for using them – Clubhouse is no exception in this regard.
As much as there are announcements of Clubhouse talks popping up 'everywhere' (mainly LinkedIn) these days, critical observers have already accurately pinpointed the social audio network's weaknesses. Besides concerns around privacy (e.g., Clubhouse requires access to all your iPhone's contacts), you should evaluate the rise of a new type of 'filter bubble' carefully before making decisions on how to leverage the app for yourself.
As a private user, if you feel like you belong to this particular 'exclusive' filter bubble, the chances are high that you will be happy about this additional format to consume content from the people you follow. 
If you're a content creator or looking for ways to position your business among the particular target audience that is active on Clubhouse, you will probably also enjoy this new way of providing valuable content to your followers, getting attention from its users, and maybe even learn something new.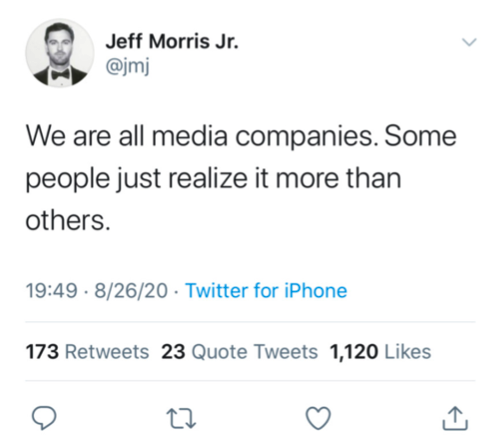 All that glitters isn't gold
However, one of the recurring points of criticism is that Clubhouse talks tend to lack professional content moderation. We've actually heard it for ourselves when using the app: 'Big names' do not automatically guarantee high-quality discussions, especially if the people talking can't agree on a certain structure of how to talk about a topic. Chances are actually high that some 'thought leaders' run off the track with their contributions and rather try to promote themselves or their business instead of sharing unique and valuable insights with listeners. 
Another point to be aware of: Clubhouse lacks the strength of 'traditional' podcasting that people can listen to content on-demand whenever they want. Users have to tune in live to not miss what is being said in Clubhouse rooms. The possibility of asynchronous consumption of content, while you're doing something else is what depicts probably one of the biggest strengths of audio in general. 
A new opportunity for everyone
If the opportunity to engage live with your followers or the people you follow outweighs this, though, then Clubhouse is surely unique by providing a new way of literally talking to your audience. Clubhouse actually offers a great opportunity to position yourself as a thought leader and tapping also into the reach and popularity of other 'influential voices' without lots of organizational effort.
Just be careful that you don't say things you don't want to end up reading in the press (possibly falsely cited) though. According to the app's terms and conditions, recording Clubhouse sessions is forbidden. But that doesn't stop people from sharing what you were saying somewhere else.
Where to go from here? 
We'll make this one short: Currently, we see three scenarios of where the Clubhouse hype could be going:
1.) Clubhouse will stay super relevant and blow up even more
If the team behind the popular app manages to use the current momentum and fix its product's weaknesses, it could surely become the next TikTok, appealing to consumers and businesses alike.
On that note: A few days ago, news broke that investors have expressed interest in funding the company again at a new valuation of $1bn (!). The company also announced that new creator-centric (paid) features are in the making, preparing the app for a global roll-out.
2.) Clubhouse will stay popular, but not as much as right now
Even if Clubhouse fixes its current flaws, it will not grow as much as in the best-case scenario. It will find its way and seize the opportunity to manifest itself as the missing piece of the content puzzle (including paid features) that companies will tackle as part of their marketing mix.
3.) It will disappear as quickly as it has risen
Clubhouse needs to find solutions for its existing challenges and prove itself once the current pandemic-related tailwind starts to weaken. Otherwise, the app might not be the next TikTok but rather the next Myspace. If there is no willingness to pay for the app, then the current 'unicorn' valuation will quickly vanish.
Conclusion
One thing is clear: Everybody wants to be seen and heard. Everybody wants to belong. And, for several reasons, Clubhouse does give you a feeling of belonging to a special tribe. 
The app is fun, but it surely is not for everyone – literally because of its current 'invite-only for iPhone users' strategy but also because of its special product offering that might not interest as many people as one would think.
Let's see if the current hype continues once the COVID-19 pandemic is finally over, it can be accessed by the wider public, and the app might not be entirely free to use anymore. 
If it does, the opportunity for creators and companies to tap into another vast 'pool of attention' is definitely real.
###
Further Reading
If this article was helpful, subscribe to our newsletter for more:
or follow us on Social Media