The Instagram Guides feature is one of the most interesting features added to Instagram lately. This article will show you how to use Instagram Guides for your businesses or personal accounts. Moreover, we will show how to use this feature to gain more followers on Instagram, get more exposure for your brand, revive old content, and even blog with it. 
1. What are Instagram Guides?
2. What can you use Guides for?
3. The three major features of Guides
4. Getting started with Instagram Guides
5. How you can benefit from Guides
1.What are Instagram Guides?
Instagram describes Guides for users as "a way to more easily discover recommendations, tips, and other content from your favorite creators, public figures, organizations, and publishers." So, essentially, Instagram Guides are a curated group of posts with commentary that can be applied to share all kinds of information: a list of favorite products, a how-to guide, a list of recommendations, a collection of favorite locations… you get the idea.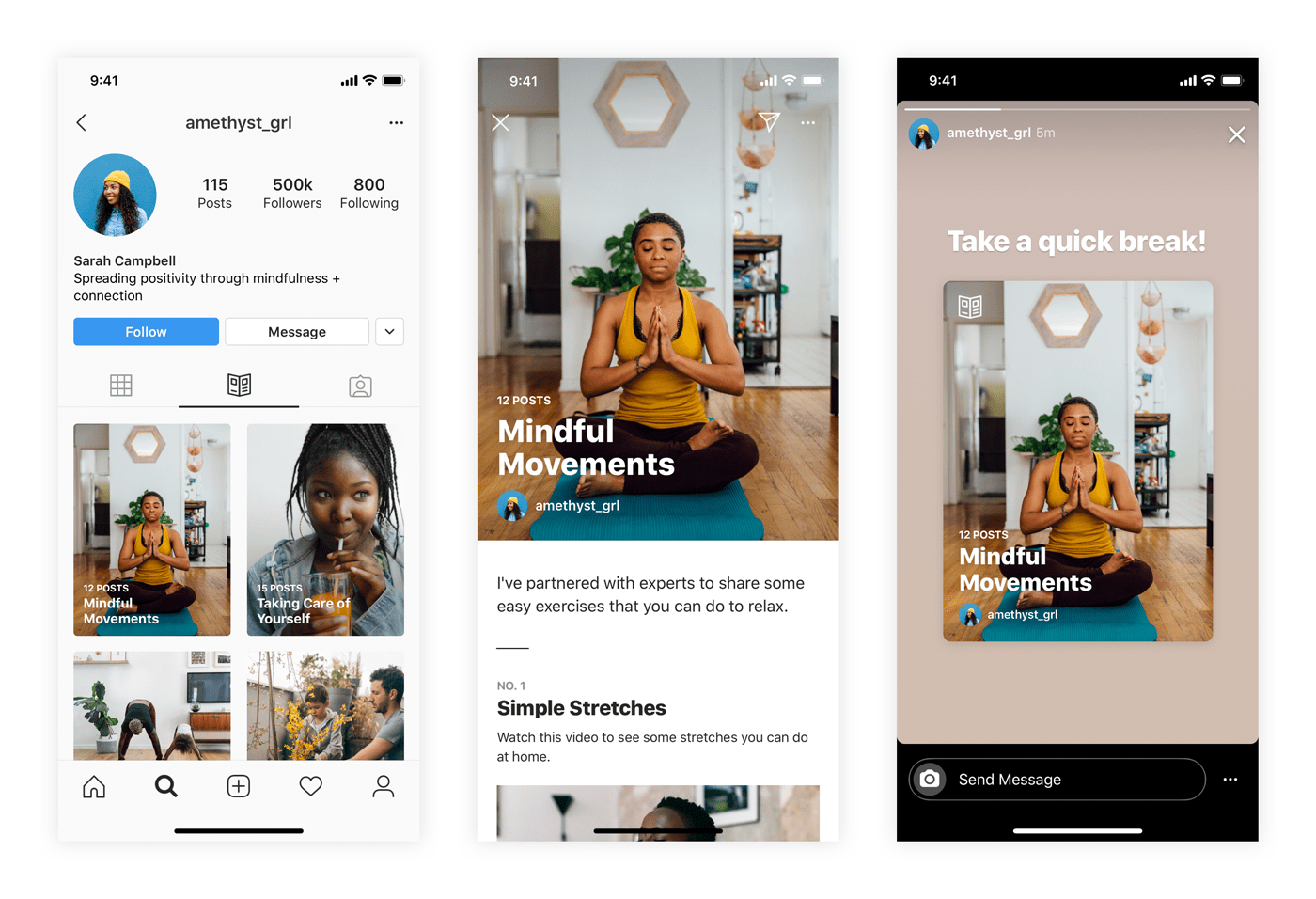 The Instagram Guide feature was first announced in the heat of the COVID-19 pandemic. Only a few brands could use it, and its use was majorly for mental health and wellness. It was a way to combat the mental stress associated with the pandemic and lockdowns. Here's the tweet announcing it by the Head of Instagram:
Starting today, you can check out Guides – a new way to discover recommendations on Instagram.

We know people are struggling due to COVID-19, so the first Guides focus on wellness content from respected organizations and creators.

Find out more: https://t.co/nade33EfoM pic.twitter.com/AgivMXB1vk

— Adam Mosseri 😷 (@mosseri) May 18, 2020
2.What can you use Guides for?
Instagram Guides come with three major features, but before we get to that, let's talk about some smaller but still important functions.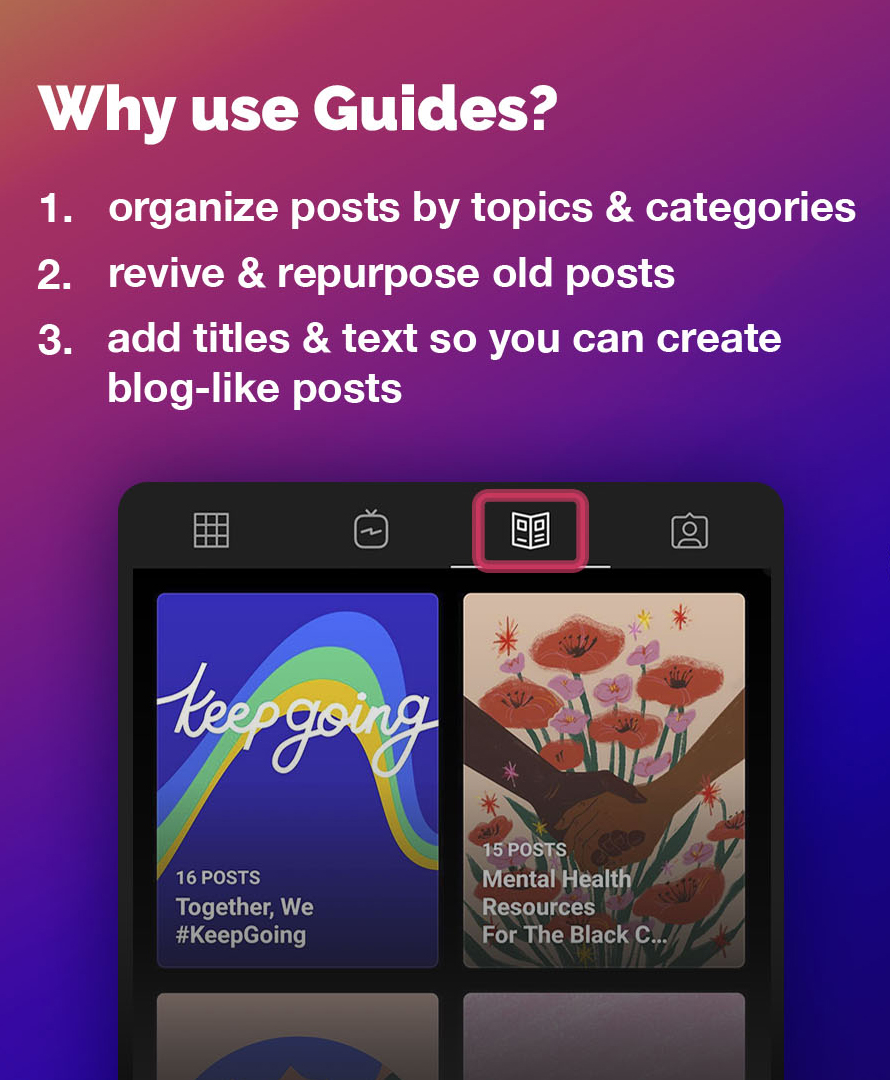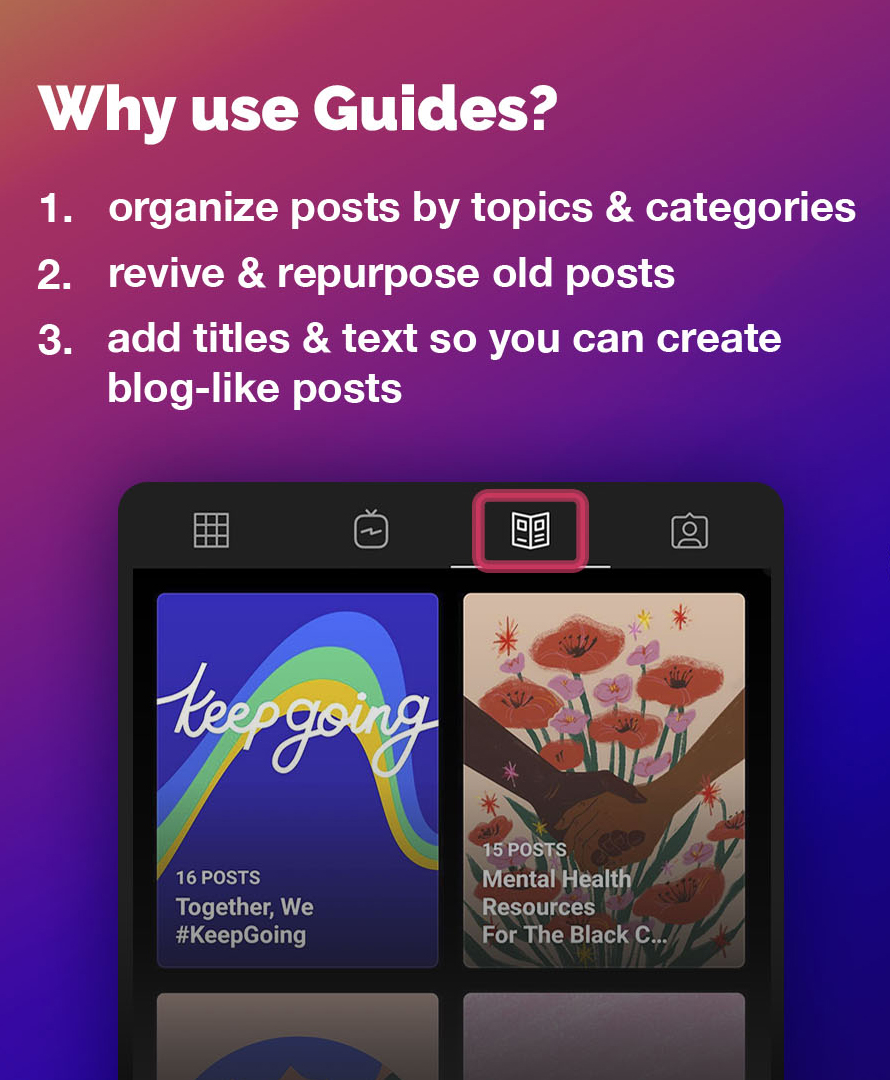 You can organize posts by topics and categories
Normally, you upload pictures individually on Instagram. You then put some details in the description. However, it doesn't make for a cohesive post. You could have a new line of products that you want to distinguish from others. Guides give you this opportunity by enabling you to create special posts for them.
Also, if you want to talk about a particular subject, you can easily select the pictures and videos under this topic, and you will create a beautiful post.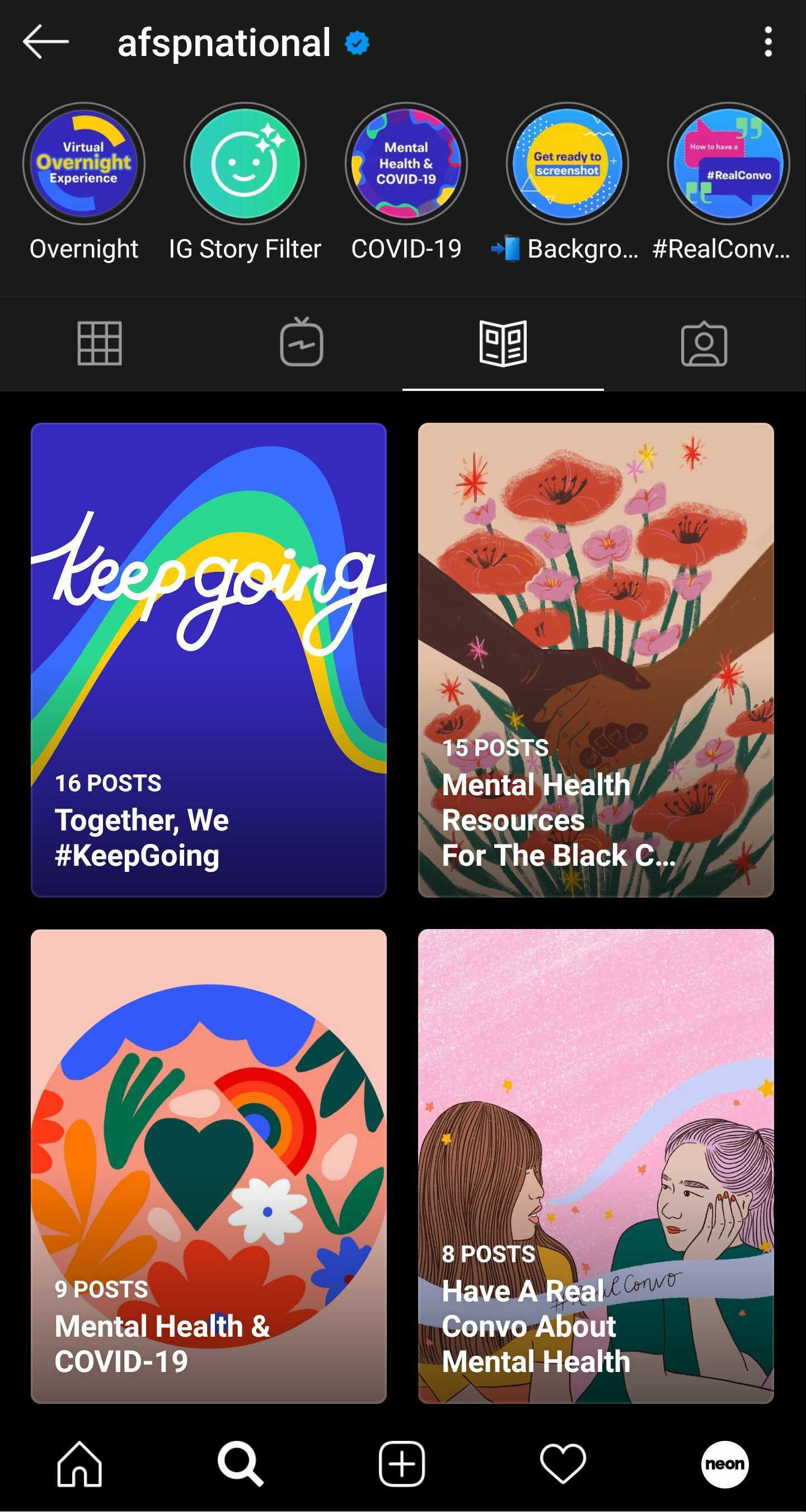 You can add titles and text
This is where the blogging feature comes in. You have the option to give individual posts headlines, some text, and add a cover photo for the guide. Thus, if a chef was writing a guide on preparing a dish, she could write something like 'How to Prepare Red Snapper Veracruzana' as the headline or title.
She could share pictures of the ingredients next and then put some text like 'Ensure you clean the ingredients properly before using them. You can store the excess ingredients in your refrigerator.' in the space for text. 
This text feature actually takes Instagram from being a solely visual platform to also being textual. Therefore, if you create tutorials and guides, this may be your next best blogging platform. And as with social media, there is a lot more engagement than on hosted blogs. On top of that, you don't have to worry about SEO and Google updates.

You can edit and update them continuously

To add more locations, products, or posts to your Guides, you can edit them at any time. You can also remove whatever you don't like anymore. And of course, you can also simply delete them.
In a nutshell, Instagram Guides allow you to tell a story or share a recent experience using photos, videos, and text. You can use the feature to start sort of a small blog, create short tutorials, or share products from your (online) shop.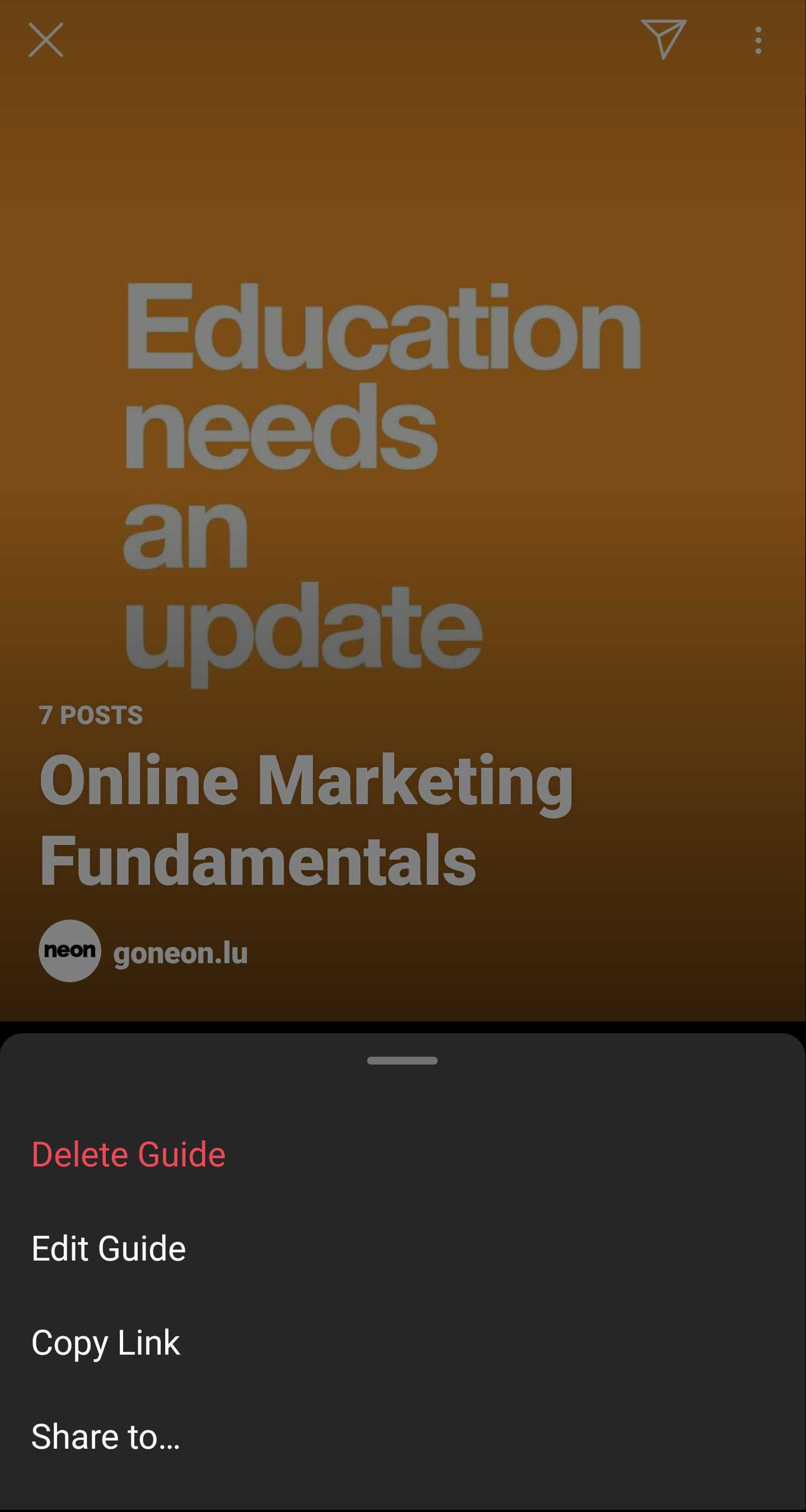 3.The three major features of Guides
In fact, the three different features mentioned earlier are the three formats that Instagram Guides offer:
Each format fits different needs, and you should simply pick them according to what you're trying to create and share with your follower. Let's dig a bit deeper into them.
Places
Using Places, you can list locations and also use other user-generated content in your imagery. This allows you to create a travel guide, for example.
To use this feature, it will help to browse through all the location tags, photos, and videos you want to use in this Guide and create a saved collection for them. Once you have all the content you need in a collection, you can head to 'Places' and 'Choose Post' to select the collection you saved. You can then select the images and videos and add them to your guide. This will make it much easier to select the right pieces of content when you are using the Places feature of IG's Guides. 
Next, you can add captions to share further details about the pictures and locations. After all, just like a normal travel blog or online guide, you will have a mix of textual and visual content in your Guide.
And by the way, you don't necessarily need to have taken pictures of a specific place yourself. By searching a particular location you want to include, you will find pictures of it you can use in your guide. Just select them and package your Guide with whatever works best for it.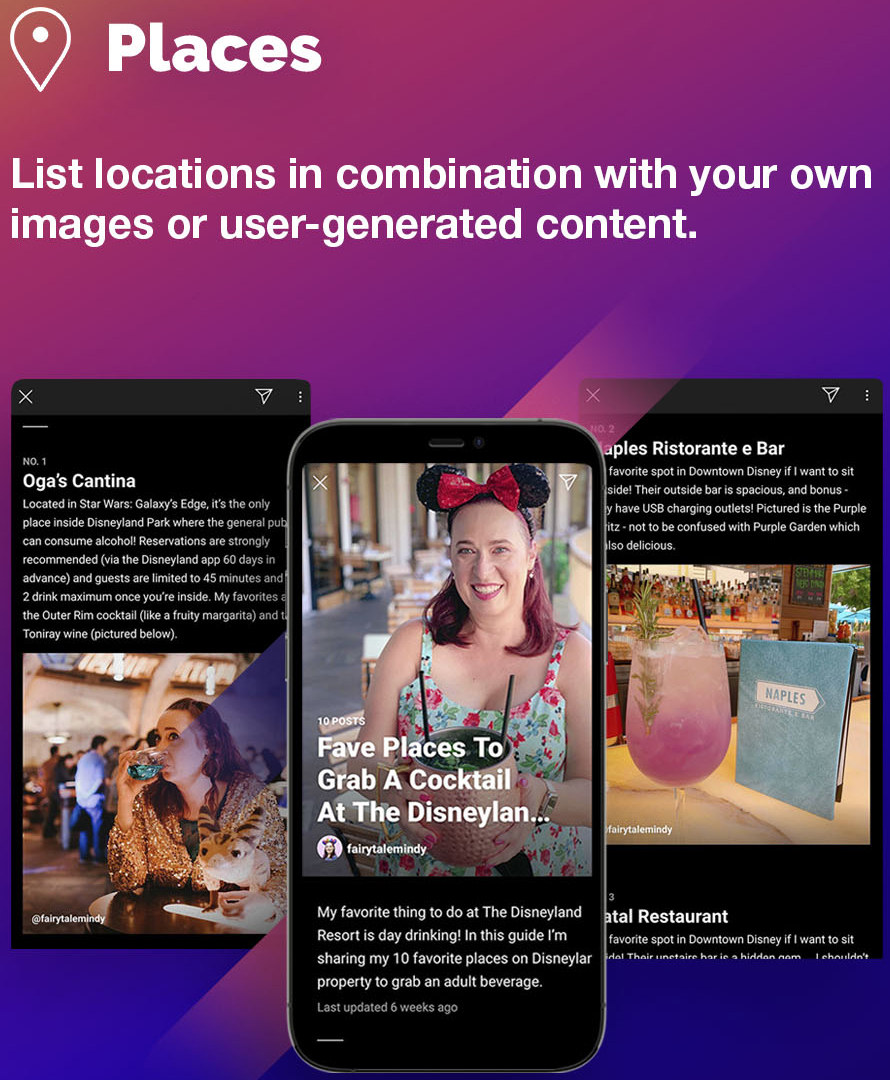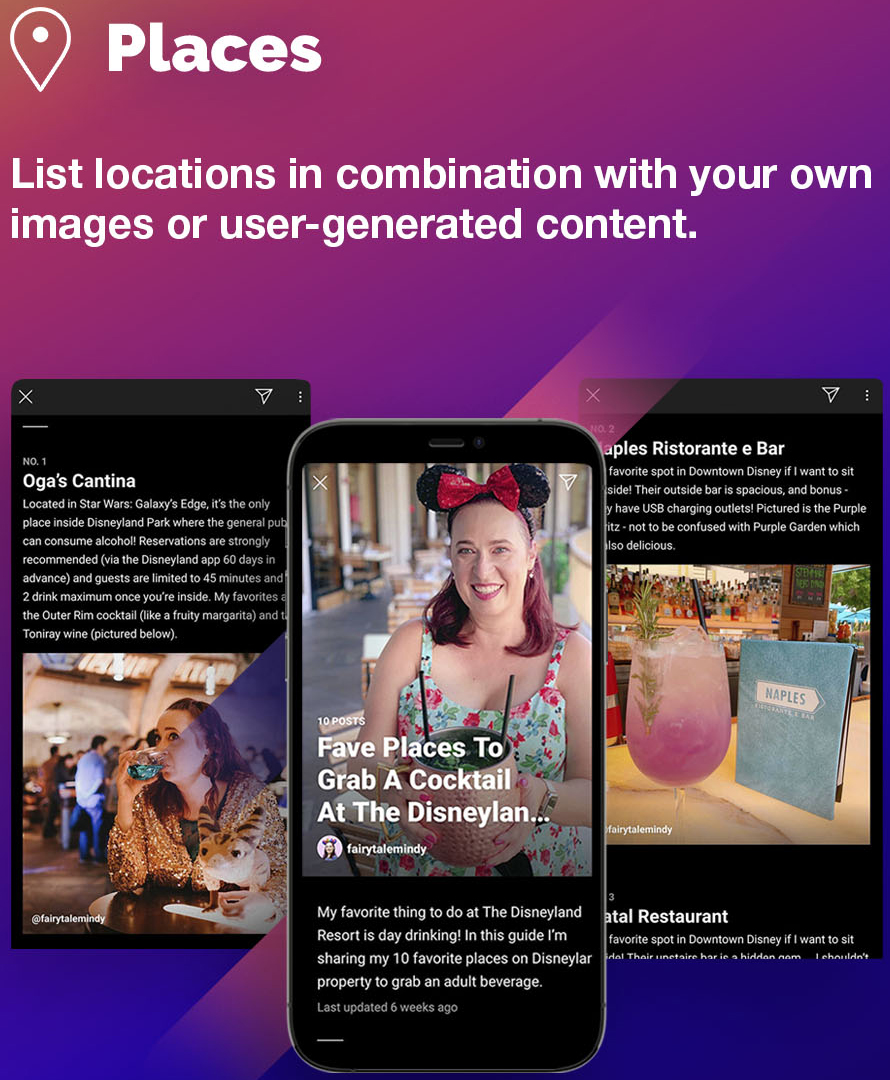 Products
This feature takes e-commerce on Instagram to another level. With Products, you can list products that exist within Instagram shops (also a rather new IG feature). Creators and influencers are using this to share their favorite products with their audience. On the other hand, businesses can use this to create a shopping guide featuring their very own products.
Here's how you can do it: On Instagram, there is a feature known as Instagram Shop. Here, you can bookmark products and save them to a wishlist. You can then create an IG Guide from the products you have on this wishlist. Like this, you can write about the products and what you love about them. Pretty cool, isn't it?
Since you can share your Instagram Guides on your Instagram stories, more people will likely see the shared products. This translates into bigger exposure, and, potentially, this equals more sales.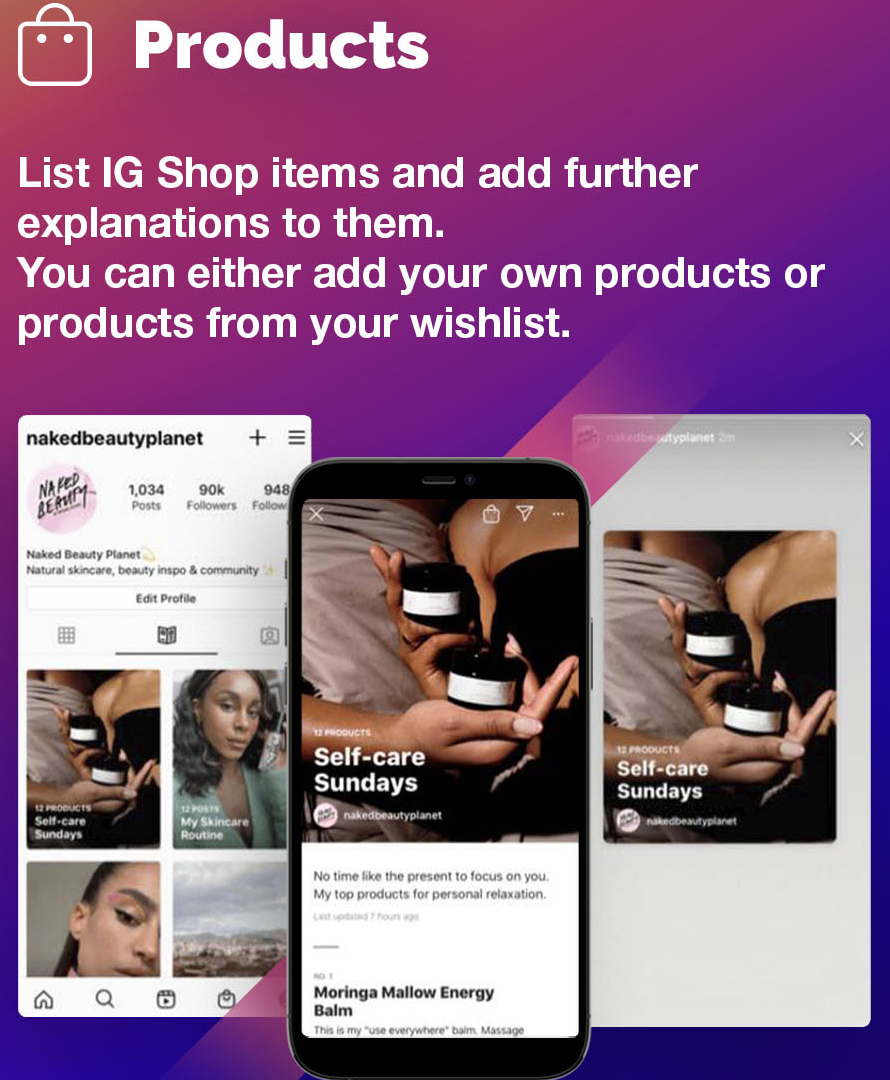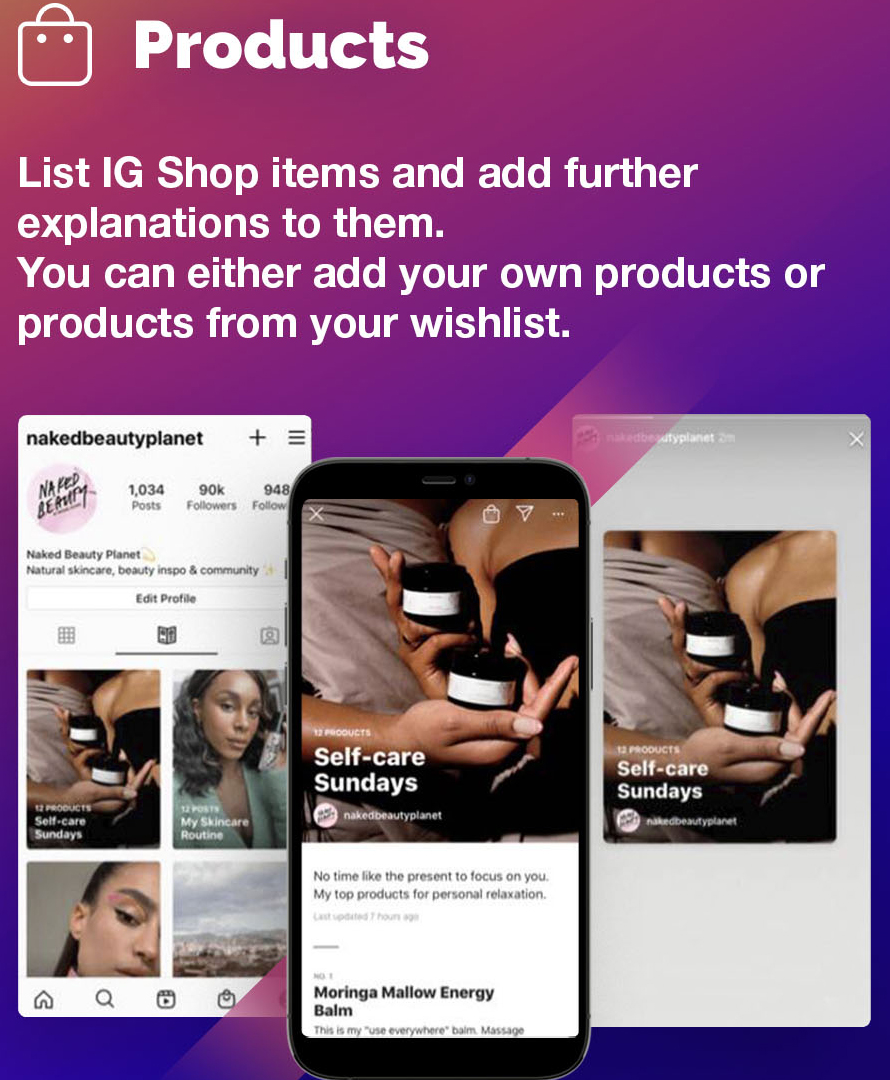 However, to use this feature using your own products, you have to make sure to first set up your Instagram Shop with your brand's products.
Posts
The Posts feature additionally enables you to create a shareable collection of your favorite posts. Let's say you're a personal development coach, and, over the years, you have posted some helpful content. However, with time passing by and new posts you've shared, those earlier posts turned into old content that hardly gets visibility any longer.
From now on, you can revive them with Guides. You can create a Guide with old posts and reintroduce them to your followers. 
Moreover, you can also use other people's content that you have saved. When you use someone else's content in a Guide and tag them in your Instagram story, they'll get a notification. And since it is their content, they are more likely to share it in their Instagram story as well, appreciating you for mentioning them. That's a bit of the virality every content creator likes.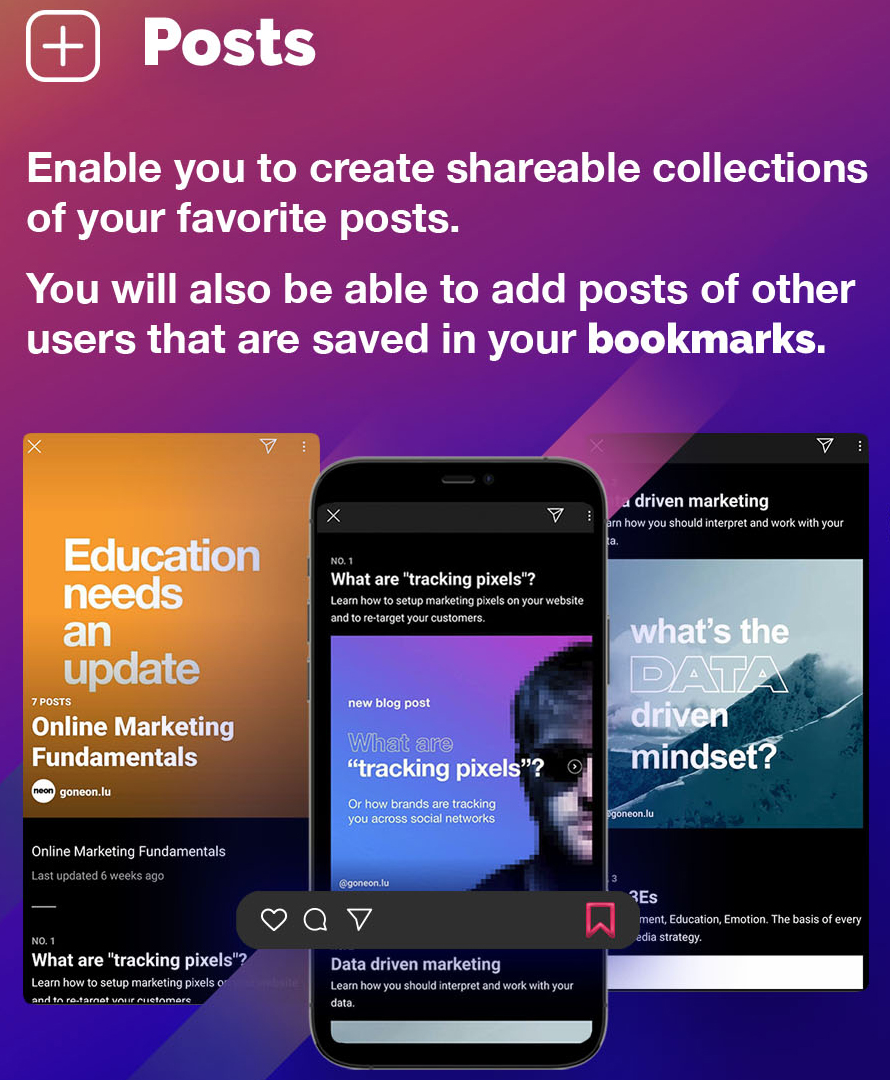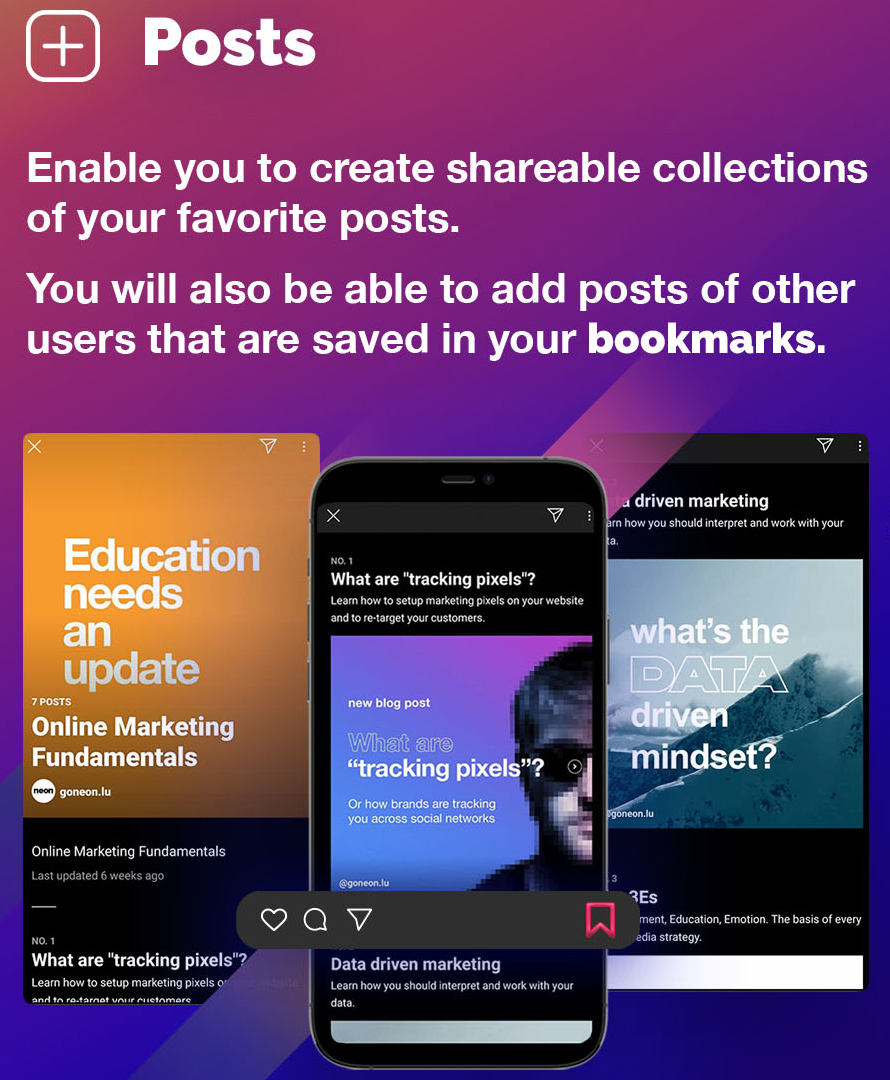 All this can bring more traffic and visibility to your content and potentially open the door to new followers and new (business) opportunities.
Important note to get traffic: Instagram Guides are not automatically shared to feeds. They are only saved in the Guide's tab of individual accounts. However, you can share a Guide via direct message, and most importantly, you are able to share them in your Instagram Stories as already mentioned. Actually, we believe it's crucial to share them in your IG Stories as you will otherwise probably not get any serious traffic from them being 'hidden' in your profile.


4.Getting started with Instagram Guides
Instagram Guides now have their own place in your profile. To view a Guide, visit a creator's profile and click the new Instagram Guides button. From there, you can view all the guides that have been created by the respective account, similar to IGTV videos. All in all, creating your own Instagram Guide is quite simple and should take you only a few minutes.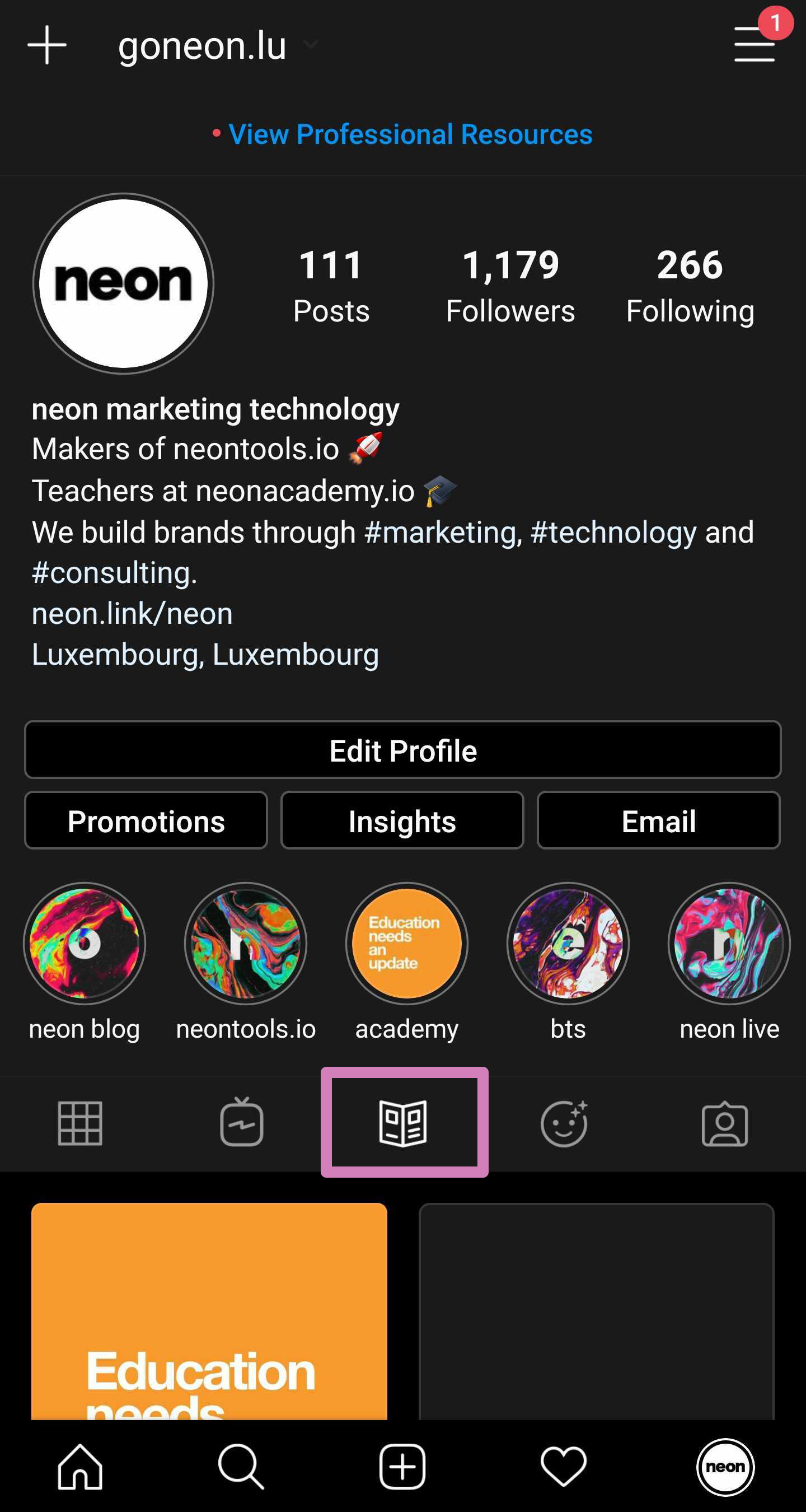 The steps for creating an Instagram Guide are:
Visit your profile page
Click the "+" symbol on the top left corner
Click "Guide"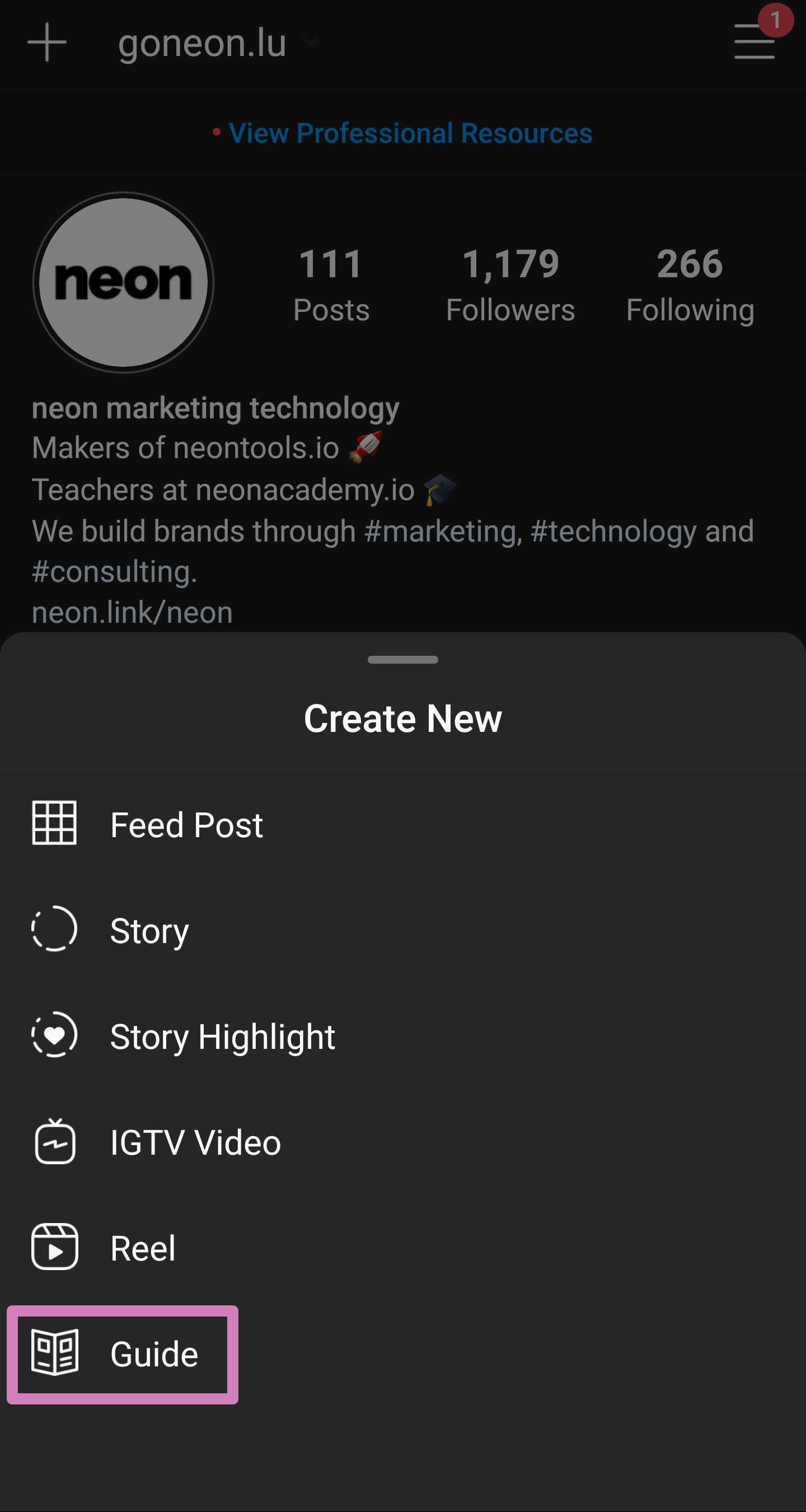 Then, you can choose from the 3 different types of Guides (as explained above):
Places: Recommend places in your city and beyond
Products: Recommend your favorite products
Posts: Recommend posts that you created or saved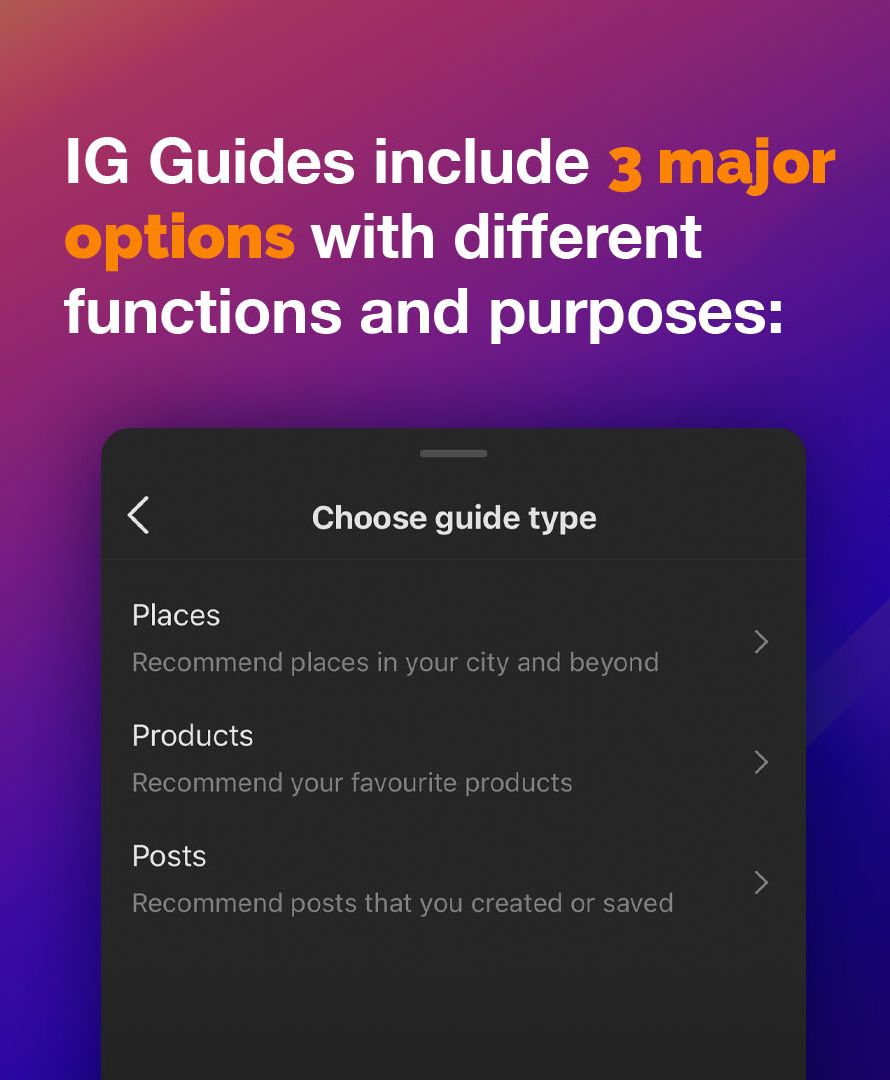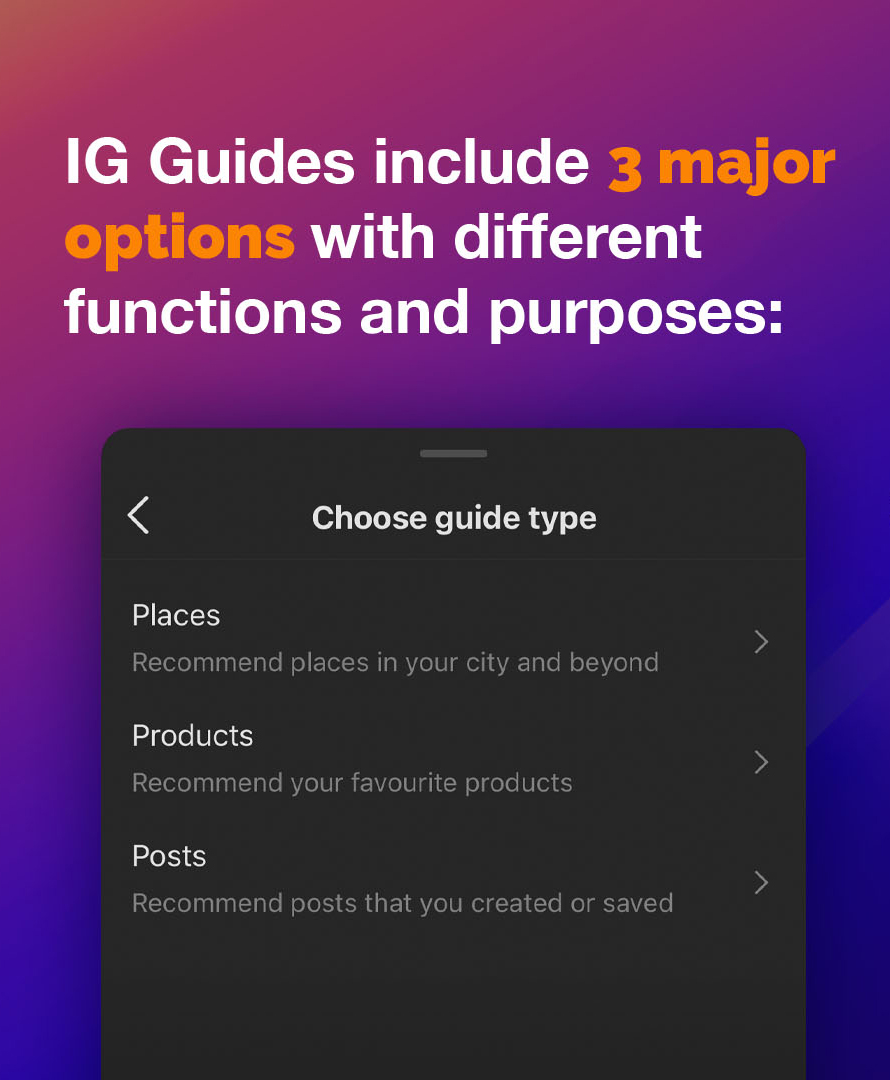 After that, you can choose if you would like to add your own posts or select posts from other creators that you have saved.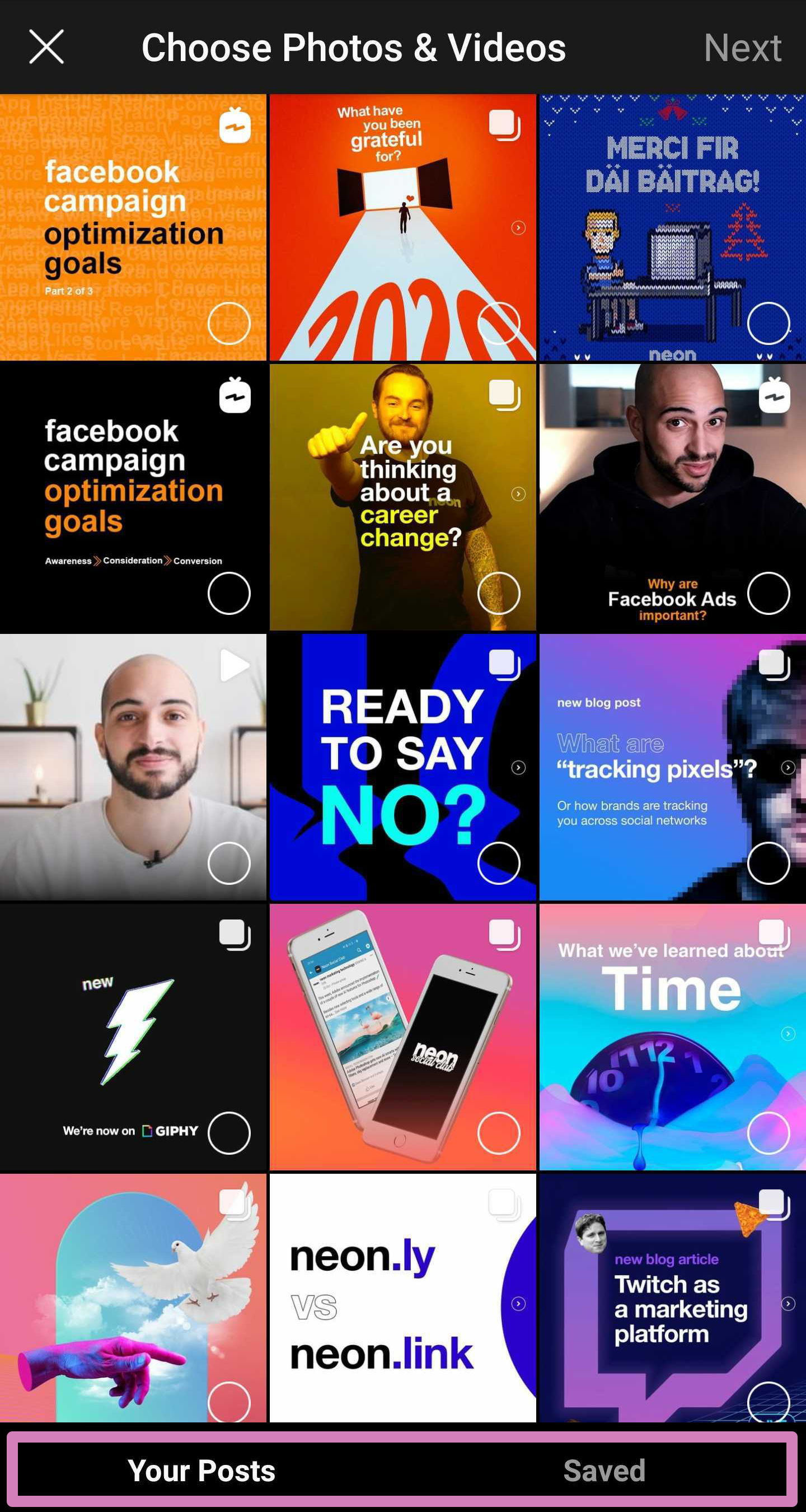 5.How you can benefit from Guides
Many businesses have already started using Instagram Guides to their advantage. Your business can – and perhaps should – so so too! In the following, we are outlining two ways in which your business can use Instagram Guides to assist your Social Media Marketing strategy.
1.) Create your own Guides
By creating Instagram Guides, your business will allow users to find informative content that helps educate them on a certain subject.
Your business can, for example, create a how-to guide to educate potential buyers on how to use one of your products or services.
You can also create, just like blog posts, Instagram Guides that provide value to your (potential) customers. For example, a Digital Marketing Agency could create an Instagram Guide with the title "10 tips that will help you rank higher on Google".
You can also create a list of your best-selling products, allowing the 'social proof' concept to work wonders.
For warmer leads, you can create a list of products, informing your audience of which benefits each product brings them, helping them make decisions that will eventually lead to them buying. You can even categorize your products to make it easier for your customers to sort through your Guide.
2.) Collaborate with influencers and creators in your niche
A different way your business can greatly benefit from Instagram Guides is by collaborating with top influencers and creators within your niche. This can be a very effective way to increase brand awareness.
For example, businesses can sponsor an Instagram Guide, where a creator builds a Guide that revolves around a specific product or location (e.g. a restaurant). A skincare brand could, for example, collaborate with a creator who builds an Instagram Guide explaining how to use a specific skincare tool and what benefits it provides. You could also sponsor an Instagram Guide that works like a product review.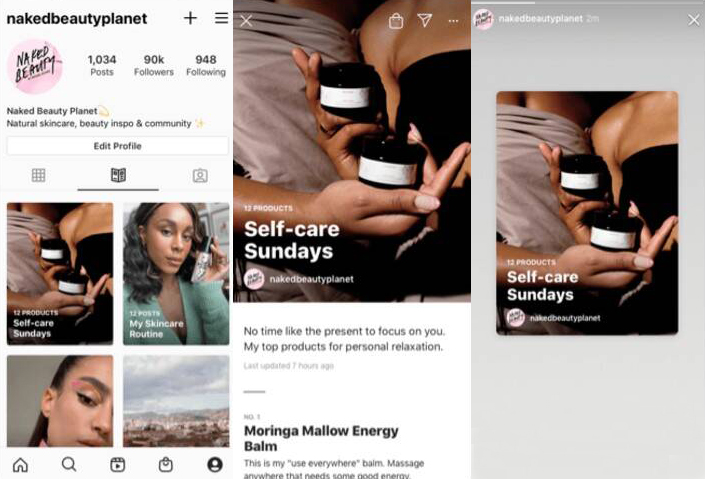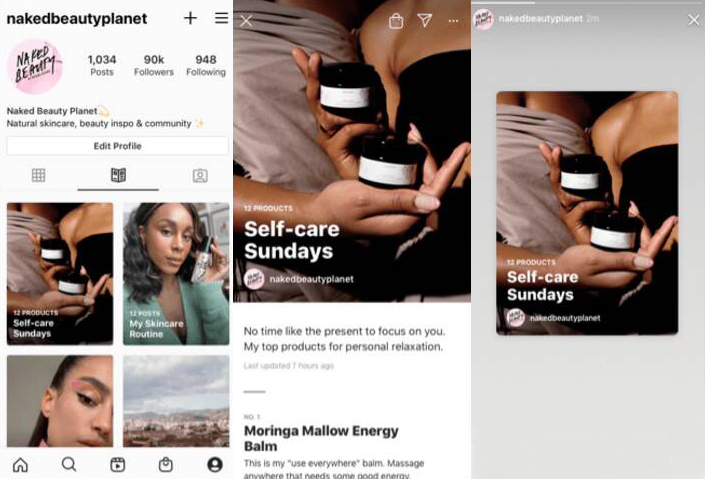 Between you and us: You could of course also sponsor a creator to publish an 'organic' Guide, where he or she lists his or her favorite products, ensuring yours makes the cut. This is a great option because it looks like organically created content to the creator's audience. This allows your brand to gain a lot of awareness without the look of an ad. A jewelry brand could, for example, pay a creator to build a "My Favorite Necklaces" Instagram Guide.
Conclusion
Instagram Guides is a great new opportunity for leveraging Instagram for your social media marketing. Depending on your type of business, you can particularly benefit from the different Guides options.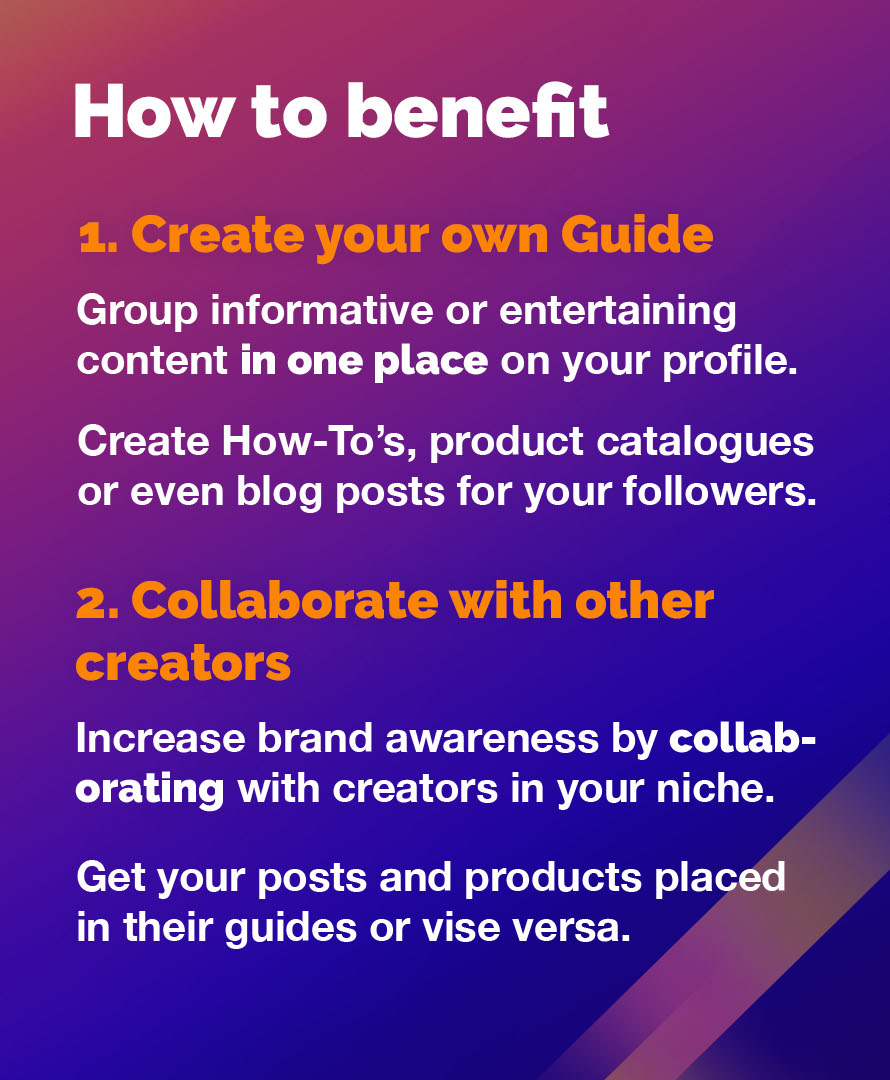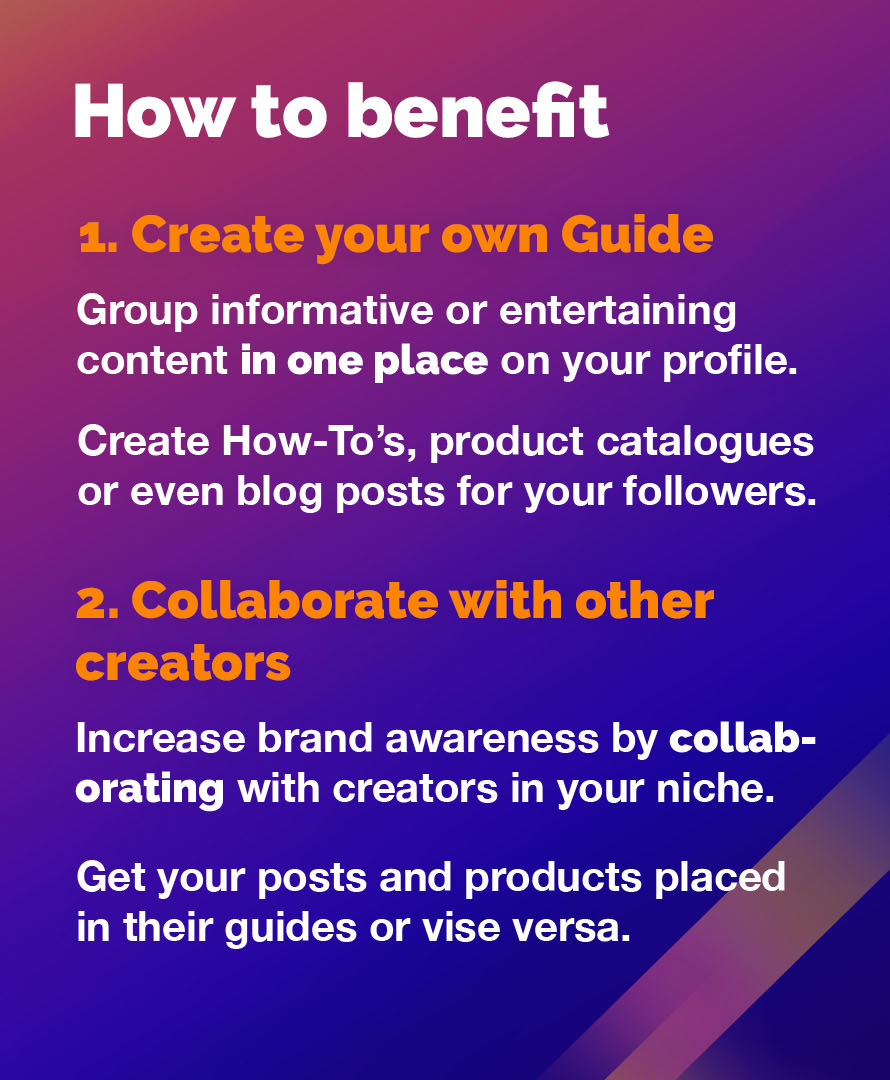 If you're a content creator, the "micro-blogging" option might help to share even more of your content in a refreshing new way. You can e.g. educate your followers with valuable insights on a specific topic that you assemble from a bunch of old and new posts. In case you're active in the travel sector, the "locations" option makes it definitely quite a handy feature as you only have to fill in the Guides template, resulting in an easily comprehensible and shareable piece of content. And, above else, if you sell products, you could greatly benefit from in-app shopping by combining a Guide with Instagram's product tagging feature. What could be better for your customers than to discover and buy your products in such a new hassle-free way?
After all, when Instagram Guides are used correctly, businesses can satisfy their followers through a more impactful, targeted, and collaborative way of social media marketing. Popular accounts can help you to grow awareness for your brand by making IG Guides part of your influencer marketing tactics. More valuable content = more value for their and your audience = more value for your business. Ultimately, this is what good marketing is all about.

If this article was helpful, subscribe to our newsletter for more:
or follow us on Social Media