In this article, we're introducing the "FAR" Social Media Framework. Jump to section.
In 1968, American artist Andy Warhol said something along the lines of:
"In the future, everyone will be world-famous for fifteen minutes."
Warhol was not far off the mark. But now, this critical mass of fame consists of  short snaps or 60 second TikTok videos. The Creator Economy is here – and it is here to stay.
User-friendly digital tools
Coinciding with this flash-in-the-pan celebrity status, we're now in the age of the "Creator Economy" – radical digital entrepreneurship at scale. New user-friendly digital tools are making it possible for anyone to have a personal online business. Hence, leading to an explosion of individual creative expression across the world wide web.
Designed to make it dead easy for people to launch their services, new platforms allow creators to perform, publish or produce without large overheads or even any investment whatsoever. The only equipment you need today to get started: A laptop and a smartphone. But perhaps the most interesting thing to note is that today, venture capitalists are backing both the individual creators themselves as well as the tech platforms being invented to help their creator businesses flourish.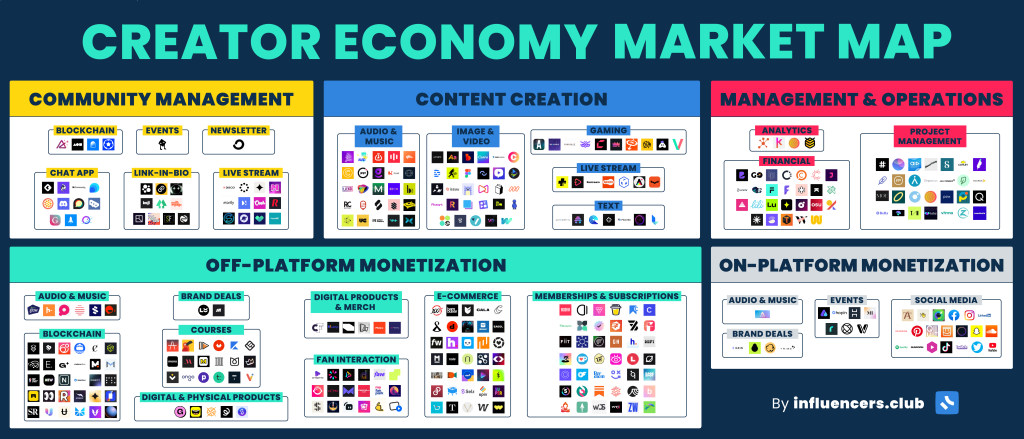 The Creator Economy Market Map by influencers.club (Click to enlarge).

Five years ago, most people developed an online presence by hiring a web designer to build an expensive website. On the contrary, now, even the need for a website itself is up for debate. A simple YouTube or Instagram account can lead to a successful business. A micro landing page like a neon.link makes it easy and frictionless to have a digital presence with your own URL within just a few minutes.
In fact, we created a whole segment on our company website listing all the incredible tools that help us reduce our daily workload: Our resources.
Make sure to have a look if you are still looking to find the right content creation tool or even all-in-one marketing solutions.
All you need to bring yourself is the skill to push your specific talent to gain the sustained attention of followers over one or several mediums over a long period of time.
DIY entrepreneurship
The traditional route to fame and fortune (or, for many, simply earning a regular income stream from their passion) is steadily replaced by do-it-yourself (DIY) entrepreneurship. Additionally, more and more startups are focusing on designing technological tools to facilitate the surge of new creators. This results in even more people being able to express themselves and offer services on their own terms. Which is a big change in values in the "personal business" world.
Your success no longer depends upon an intermediary, and you don't have to give up control or ownership. Even though your success might still be dependent on popularity shifts, changing trends, and slick marketing.
The Creator Economy slowly evolved
This phenomenon has been budding for a while but has now reached a critical mass. It began in the 2000s when new musicians were being discovered on MySpace and signed big record deals. Or when Blogger gave writers a forum to reach readers, and agents took notice. Then came Amazon's Create Space, which meant that anyone with digital skills could self-publish their books, pulling the rug out from under the traditional publishing industry. Apple's iTunes allowed musicians to sell directly to listeners, and YouTube gave rise to 'vloggers'. With the rise of TikTok and Twitch, the industry took another big leap forward.
Where's the Creator Economy headed?
Not too long ago, significant income streams were only available to the top-tier creators who had an astronomical number of views or "likes" (advertising-driven profit). Today, you find tons of alternative income streams based on subscription-driven profit, e.g. through Patreon, Substack, or other platforms. This gives creators a way to build their own audiences and networks. Meaning they have even greater control over their business direction.
So, as creators cut out their own niches, they're changing the game for the existing marketplace. Competition still is, and always will be, fierce, but it is now being democratized. People have a chance to put themselves out there and see the reaction of the audience.
And, they can do it cheaply. Anyone with Wi-Fi access and a service to offer can now easily launch their business online and begin making money from it.
View this post on Instagram
Model Kara Del Toro posting about her NFT sale
Furthermore, we're seeing completely new payment models rising. In early 2021, so-called Non-Fungible-Tokens (NFTs) started being all over the news as a new independent payment and ownership medium. Through platforms like opensea.io, rarible.com, or makersplace.co, creators can now easier than ever sell their content directly via the Ethereum blockchain. We suspect that this will have implications on the Creator Economy and the underlying "Attention Economy." For the future, platforms need to revaluate how they monetize and pay their creators and their data. New social platforms like Clubhouse already put creators in the heart and center of their growth efforts, trying to have them benefit of their platform's popularity too as they are the ones that keep people hooked in.
What does it mean for brands?
With more and more creators entering the field, competition for brands will continue to grow. In the fight for attention, brands will have to develop new and innovative ways to stay relevant and interesting.
To help brands with their digital communication, we came up with a new framework and 3 essential steps every business needs to understand.

Introducing: FAR.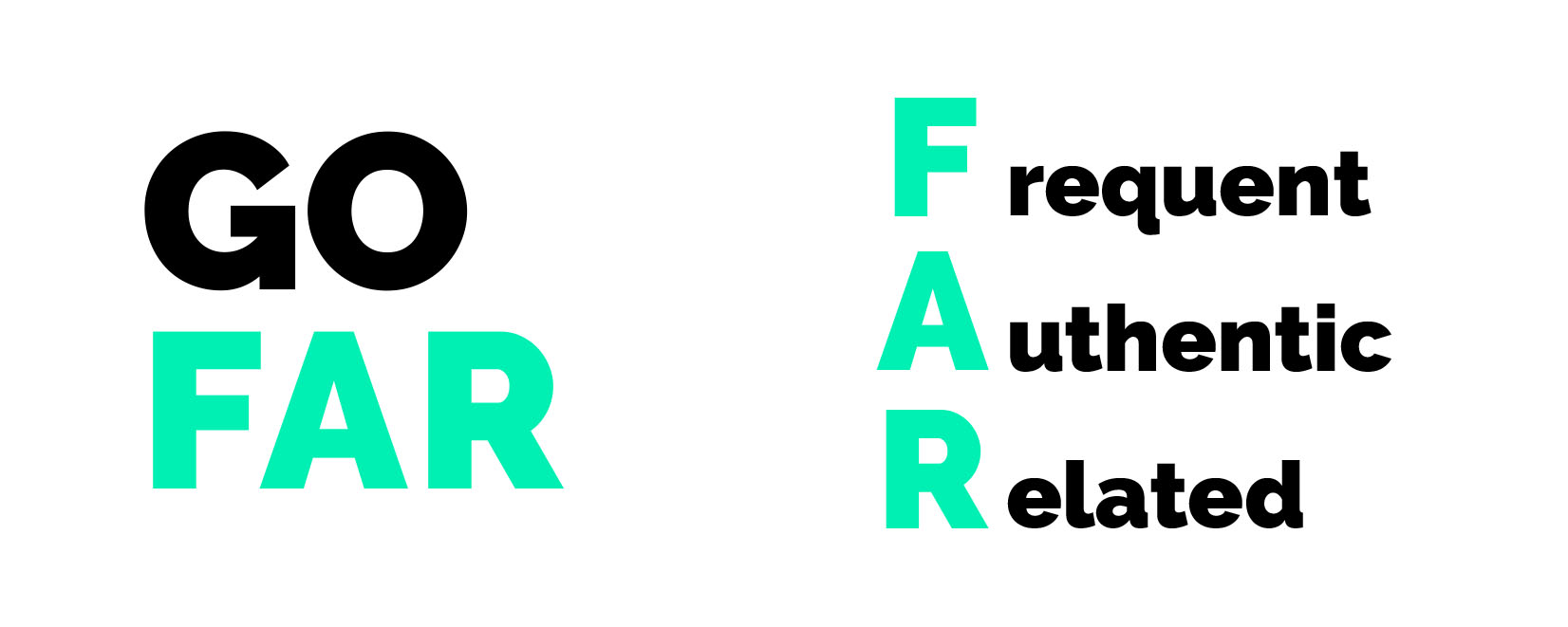 To grow on Social Media, you need to go FAR.
FAR stands for:
– Frequent
– Authentic
– Related
These 3 factors are crucial when building an online presence as a brand.
Frequent
In classical marketing theory, it is believed that people will need to see your brand around 7 times before they start noticing it. After 7 times, your name will make it into the short-term memory of new customers and users. The more often you post, the more likely you are to make it there. Or in other words: If you only post once a month, your chances to slide into the short-term memory are quite low. Remember: Not every person sees every post you make. Depending on the platform, if you post only once a month, it is very likely that even your followers will rarely hear from you.
Right now, TikTok is the platform that relies the most on frequency. Going viral and reaching people who never heard of you before is fairly easy on TikTok compared to other platforms. The platform rewards you a lot. However, even here, it takes a few posts for people to start recognizing your face, name, style, and brand voice and thus find an audience.
The same is basically true for every other platform. Don't believe us? Look at this mindblowing tweet by @LubaYudasina:
Mind blowing stats. How long it took YouTube creators to get followers (averaged):

🤯 1M: 3,873 videos
🤑 100k – 1M: 1,171 videos
😁 10k – 100k: 418 videos
🙂 1k – 10k: 151 videos

Persistence, focus, and patience are key in anything!

— luba (@LubaYudasina) November 27, 2020
In brief, if you want to grow a large audience, better buckle up and start creating because you will need more than just one video every few months to make it.
Now, we're perfectly aware that this is a huge commitment to make. Therefore as a company it's very important that you take an informed decision on this: Do you really want to shift resources into frequent content creation? Do you have the time, energy and money to do so? If this sounds scary to you, content creation might not be the growth channel for you (yet).
Authentic
The rise of smartphones, platforms like TikTok or Snapchat, as well as the creator economy in general, brought about crucial changes for advertising. It has never been easier to create audio-visual content than today. Over the past few years, our common perception of videos and photography has changed a lot. A great video shot on a smartphone can be as entertaining or educational as a professionally filmed video production, but it has one major advantage: it's much cheaper.
The cost of launching a startup company went from $10M to a macbook.

The cost of launching a media company went from $1M to a macbook and a camera.

In the meantime, the upside of both has gone 1000x.

Welcome to the internet nation!

— Hugo Amsellem (@HugoAmsellem) April 12, 2021
When calculating return on investment (ROI), it often turns out that "cheaply" produced content ranks better than high production value campaigns (again, especially on TikTok). This creates a positive feedback loop: Even advertising agencies have onboarded this train. For influencers and creators, huge opportunities have opened up. TikTok themselves highlight this approach with their claim: "Don't make ads, make TikToks." The same is true for other channels: Classical ads won't be effective on new platforms.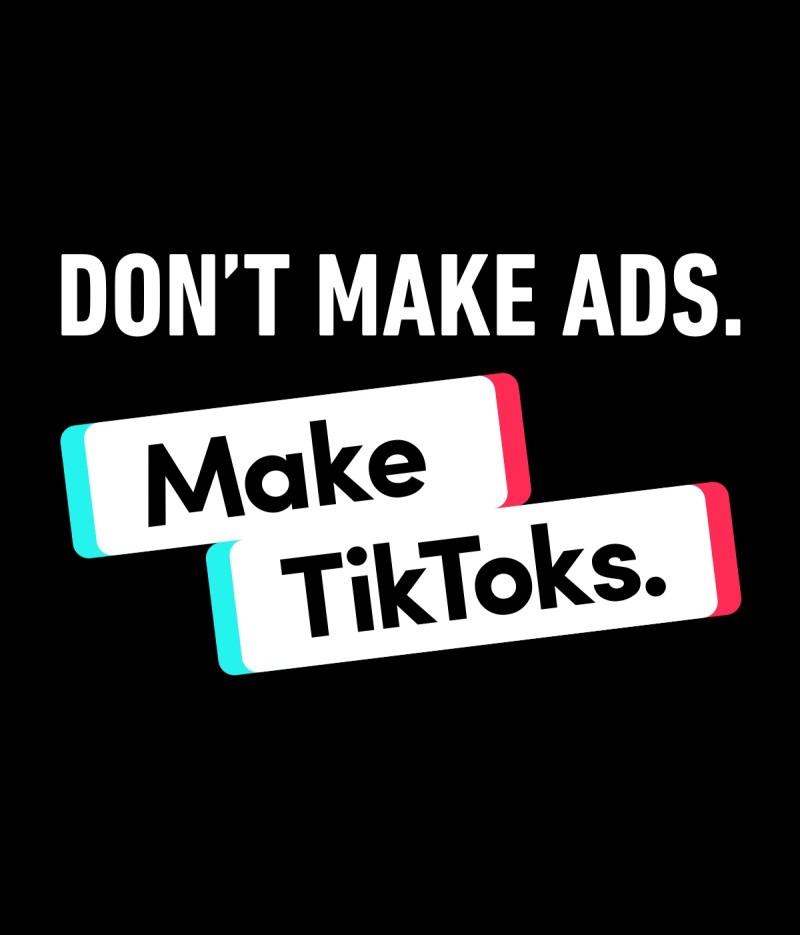 For creators, this means that there's one major skill they need: Being authentic. Believe us – to some, this is not as easy as it may sound. When it comes to video (the best performing content type), authenticity is key. If you cannot present your message authentically and honestly, you will have a bad time. Speaking in front of a camera is a skill that needs to be learned, especially if you're planning to speak in a foreign language.
The best you can do: Not giving a sh*t 🔥 Like this guy who famously went viral on TikTok in 2020:
I will never be as cool as this guy, skateboarding, drinking juice straight out of the bottle, and vibing to Fleetwood Mac.

— SassyMétisChick ❤️ 🇨🇦❤️ (@SassyMetisChick) September 25, 2020
Again, as a company you need to make a choice: Do you have the right people that can bring over your values authentically? If a team member is scared to speak into a camera, he/she is not necessarily made to be the face of your brand. Authenticity comes either naturally or through practice and experience. If none of your employees have the right skills, feel free to let them practice outside of your company environment first.
Related
The final ingredient to growing an online audience: to actually care about your followers. Know who your audience is and how you can interact with them. You can find plenty of ways to engage and interact with your followers. There's literally no excuse for not doing so.
For example:
Did someone ask you a serious question on Facebook? Take the time to answer!
Someone commented on your Instagram post? At least reply with an emoji.
Someone mentioned you in a video? Like and leave a comment!
You're running a Twitch Stream? Interact with the chat!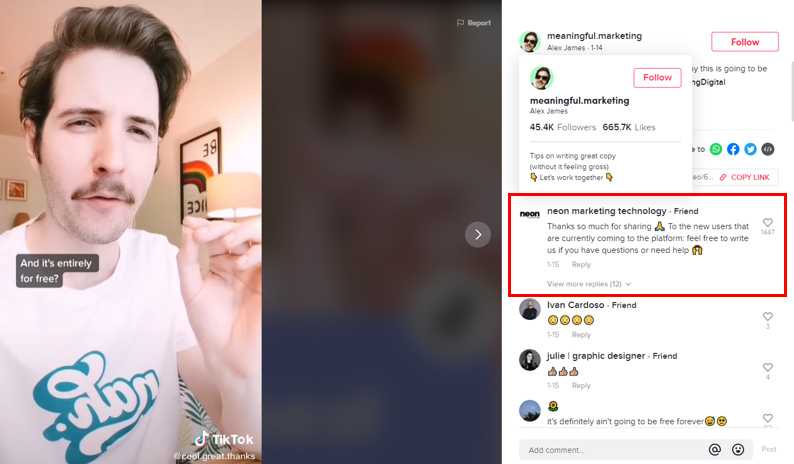 Receiving user-generated content is one of the best things that can happen to your brand. It's literally how social media is meant to work: collaborating and interacting with others. Even if people have a genuine but useful negative critique, it can be powerful for your digital channels (and not only for your product department).
Also, don't be afraid to address issues that are important to you and talk about them openly and honestly.
Especially for CEOs and managers it can be very interesting to actively engage with customers and read what they have to say: you might learn a thing or two!
Conclusion
The Creator Economy enables each and everyone with an internet connection to start leveraging their talents on their own terms. Additionally, the advertising industry has evolved a lot and keeps evolving constantly. Following up on trends is key if you want to make it in this industry. Once you've managed to grow your own channels successfully, you're sitting on a gold mine that you can leverage for your business. At least until the next trend comes around…
If you've found that social media works well for you, you may want to check this article on the Bullseye framework and traction channels.
If this article was helpful, subscribe to our newsletter for more:
or follow us on Social Media