When talking about social media marketing, usually the focus is on the platforms that have essentially created and shaped the industry: Facebook, Instagram, and YouTube (as well as to some degree Twitter and Snapchat). But as every marketer who has done their homework knows, getting significant organic reach on these platforms takes a lot of work, not to say it is almost impossible these days. Using their paid advertising options is the most efficient way to reach who you really want to reach with your brand's message, content, or product offering – but bear in mind that you will need to allocate sufficient budget for this.

However, there is one platform that has gained a lot of importance for online marketing in recent years as it still offers big potential for large organic reach: LinkedIn. 
But not just because of that, the social network is an important channel to reach your target audience, especially when you are operating in a B2B industry. 
With this post, we want to shine a light on the platform and give you an overview of how to leverage it for your marketing purposes.
1. Why LinkedIn matters
To kick it off, let's look at some numbers. During our research, we found this nifty graphic that shows why LinkedIn must be considered by everyone working on their online marketing strategy:
To put it straight: LinkedIn is the leading social network for business professionals. (If you are curious about the above stats, you can find more info on them here.)
Founded all the way back in 2003, LinkedIn's popularity has significantly increased just in the last 5-10 years. The number of users has actually tripled since 2013. 
As a platform with a distinct focus on all things related to "work" and "career", chances are high that a certain percentage of your target audience is active on LinkedIn. This holds true especially if you are a business owner or marketer in a B2B industry, no matter what size your business is.
But also for B2C companies, LinkedIn matters. Just think about it: 660 million users equal to just as many people who are consumers outside of the workplace. And that number of users is still growing! So there are plenty of opportunities to get attention on LinkedIn for what you do and have to offer. 
Either way, LinkedIn is one of the best channels for building your brand, generating leads, discovering useful connections as well as hiring talent. 
And, if you're not using it for a company's purposes, then it is definitely also the place to go to for new career opportunities, building your personal network, gathering useful knowledge, and creating an audience of followers based on the content you share around your professional expertise (aka personal branding). 
2. The last (trusted) bastion of organic reach
OK, to be honest: LinkedIn might not be the last bastion of organic reach as there is also TikTok, which simply continues to blow up these days. However, we would go as far as to say that LinkedIn is the last major social media platform that has been around for a long time and still offers notable organic reach opportunities.
In our opinion, LinkedIn does not really knock it out of the park when it comes to things like its UX design but the platform simply works for what it was built initially. And, just like with Facebook and Instagram, you have habitual features like a central newsfeed that gets a user's attention right away as well as some ad spaces within and also around it.  
In this regard, a few more numbers to get you excited: LinkedIn generates 9 billion content impressions per week (15x more content impressions than job posts) and 57% of sessions come from mobile devices.
On top of that, 82% of B2B marketers say that LinkedIn is the most effective platform for content marketing purposes.
What's also interesting in this context is that LinkedIn has been assessed as the most trusted digital platform out there.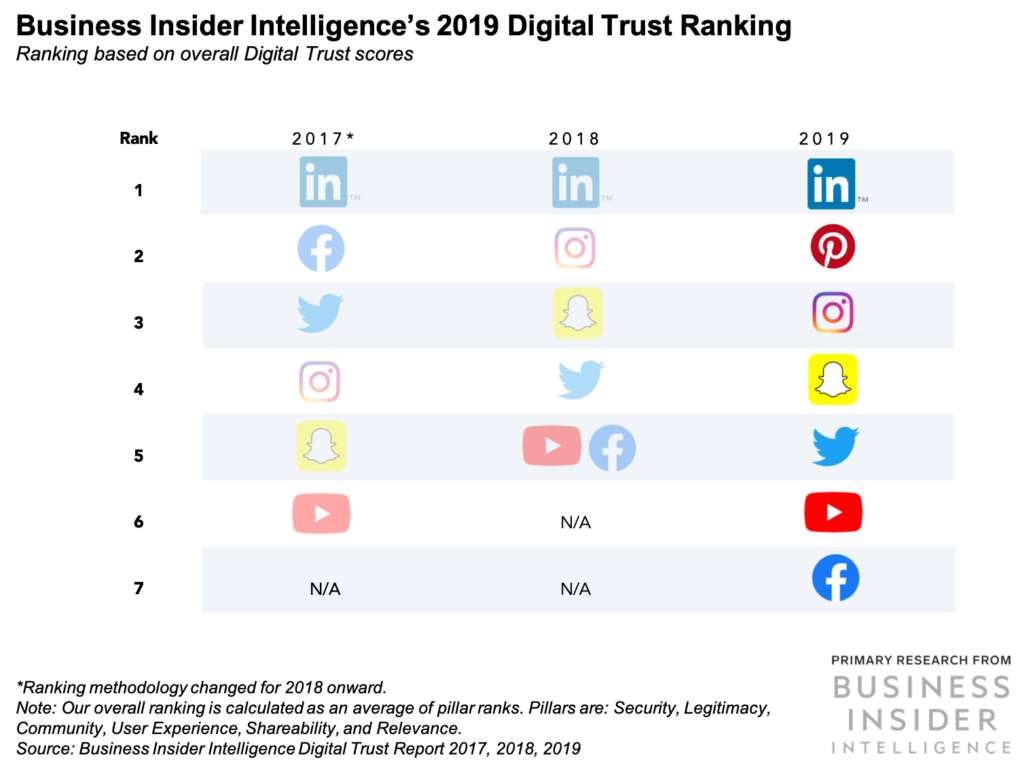 Why is that? 
Based on the nature of the LinkedIn community, users on the platform tend to be well behaved and are usually more selective and mindful interacting within their professional network. The content shared by individuals and organizations is generally focused on career-related topics and seeking to promote professional interests. All this makes up a more trustworthy environment in comparison to other channels.
3. How to get started
If you don't have a personal LinkedIn profile yet, you definitely need to get one, no matter the industry you're in. And, if you are a business owner or marketer and don't have a company page yet, the same is true for you. 
Just to clarify: In this post, we're focussing on how to leverage LinkedIn from a company's perspective. In case you are looking for advice on how to build your personal brand on the platform, don't worry – there are also some useful guides and manuals out there in the world wide web on how to do that. 
As a company, one thing that you need to do before you start posting on the platform is to answer the fundamental question: Who is your audience? Just like with any other social media platform, if you want to take LinkedIn seriously, you need to define your audience and goals first. 
Depending on the outcome of that exercise, there are a few things to keep in mind right from the start in order to engage with your audience: 
Help people find your LinkedIn page
To build a following on the platform for your marketing purposes, you also need to get users' attention outside of it. LinkedIn offers a variety of plugins to connect it to your website. For example, you can add a LinkedIn share button to your blog content in order to get it shared on LinkedIn. You can also add a company "follow" button to encourage more people to follow your company page. And, you can even add a recommendation button on your website asking people to recommend your products and services on your company page.
To gain visibility within the platform, you need to optimize your company page for search. Almost like a natural law, search algorithms like keywords – the one LinkedIn uses is no exception. That's why you should incorporate keywords and phrases on your company page that potential customers might use to search for your product or service. Include them in the "About" overview, clearly stating who you are, what you offer, and what you stand for.
Additionally, LinkedIn itself states that "links are essential for boosting your search ranking". For this, you should link to your page from your website (as mentioned above), and also make sure that the profiles of your employees are up to date. 
And, no surprise, the platform also emphasizes that you need to share relevant content often: "The more frequently you share content your followers engage with, the higher your page will appear in search results." 
Lastly, sharing and engaging insightful content from others also helps with your visibility. This leads us to the next point. 
If this article was helpful, subscribe to our newsletter for more:
or follow us on Social Media