This weekend we got together to capture some new company profile pictures and in the middle of the process, we realized:
It's our 4th birthday!
4 years ago, Karim and I embarked on the "Neon Marketing Technology" adventure together.
With the mission to put Luxembourg's digital media industry on the map, we set out to transform how people interact with social media.
I thought this anniversary would mark a good opportunity for a short look back at what we have accomplished so far and what we have planned for the future.

View this post on Instagram

A lot has changed since we launched. When we started, TikTok had just acquired "Musical.ly", Instagram didn't have Reels, almost nobody had heard of NFTs, and Text-to-Image AI didn't exist. Looking back, I think it is fair to say that there is no other industry that moves as fast as ours. However, the opposite is also true: Some principles that were relevant in the early days of advertising are still true today. It's the media that have changed over time.
Keeping up with every new media innovation can be extremely challenging, but that's exactly what drives us. Over the past few years, we took many different bets and made lots of predictions, and even though not all of them came true, we can proudly say: We are still here and we will keep going.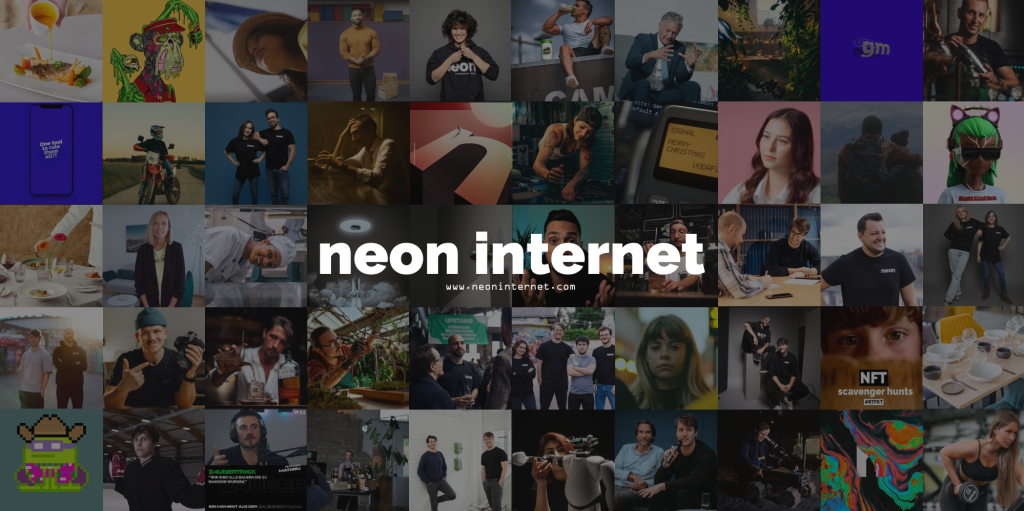 At Neon Internet, we focus on 3 areas:
Our creative agency business, our neontools.io, and our research and development arm that explores new "metaverse" technologies like Web3 or creative AI.

Next year, we want to expand and excel in all 3 areas.
Most importantly, for our agency, it is a great pleasure to see that Ricardo has been able to take over my role as manager in the daily business. As a 100% remote company, we have improved our internal processes a lot this year. This allows us to be more transparent and even more customer focussed in all of our agency work. One important aspect we want to improve next year is being clearer about the variety of services we offer. We have learned that as a full-service agency, it can be hard to explain to people what "you actually do". People are quick to toss you into a box, so we'll need to do better on this. 
Next, our platform Neontools.io is very important to me personally. With our bootstrapped platform, we count around 75'000 signed-up creators, agencies, and marketing professionals today. In 2023, we want to cross the 100'000 user mark. We have a few important changes coming up that we believe will help to improve the platform a lot in the long run. One of these updates will be a new offering called NeontoolsPro. We currently aim for a release of Pro at the beginning of 2023. 

Finally, for our research, training, and development tasks, we will continue to keep up with all of the thrilling innovations that happen in our industry. We will keep sharing our learnings along the way and share educational content. While my personal focus currently lies on exploring the endless possibilities of creative AI systems, I am also still very eager to keep up with the future of digital assets and the related Web3 Industry.
Looking ahead, I think the future for our industry is bright but it requires a significant amount of research and hindsight to determine the right path. 
Let's give it our best shot!
– Misch
P.S. I'm also super happy to finally welcome our Lead Developer Daniel to the Team Section of our website. I've been trying to get this guy in front of the camera for months and we finally made it!
Daniel is one of the best programmers I have ever met and he has been a great teacher for me in the past months. Besides his tasks at Neon Internet, he also works as a freelancer through www.danielwahl.lu. I can only recommend him, but please don't steal him from us lol.
If this article was helpful, subscribe to our newsletter for more:
or follow us on Social Media