This article was selected by the readers on our Instagram account @community.neontools.io.
Thanks guys!
Many of you might be wondering how to step up their advertising game for 2019. We put together 6 tips to help you rock social media ads this year:
Create value
Give your audience a reason to listen to you by creating ads that are engaging on an emotional, educational or entertaining level. In other words, your ad has an added value if it is informative, entertaining or rewarding on an emotional level. It is not enough to shove your product into peoples' faces and expect them to come running to you, especially in markets with a lot of alternative products. Make an effort to understand your audience and their needs, then address these needs with relevant content. Highlight a common problem that resonates with your audience and show them how your product/service can help solve the problem. This context is automatically going to highlight the value of what you are offering rather than making people feel like they're just seeing another ad. 
Make it about how you are trying to help them solve a problem rather than you trying to sell to them.
If your ad is not solving a problem or pointing towards the solution you'll have a hard time convincing people. 
Don't be afraid to get inspired by your competitors. Check out what they are doing and how their audience is engaging with their content and use this information in your favour.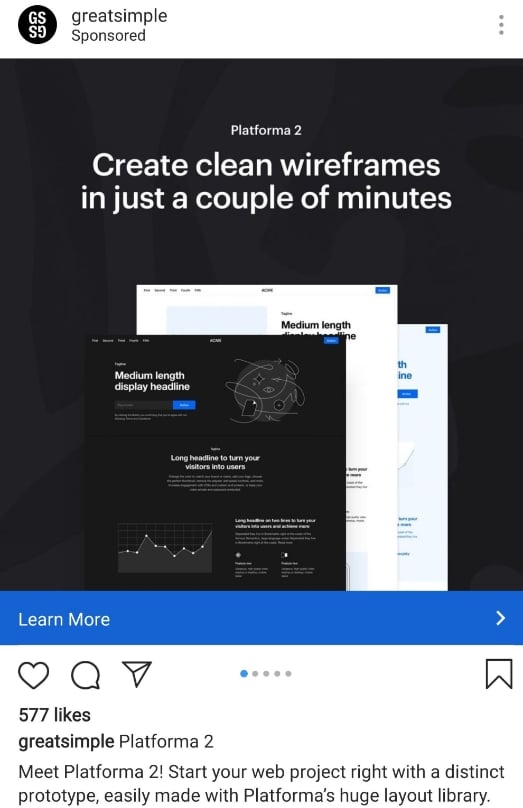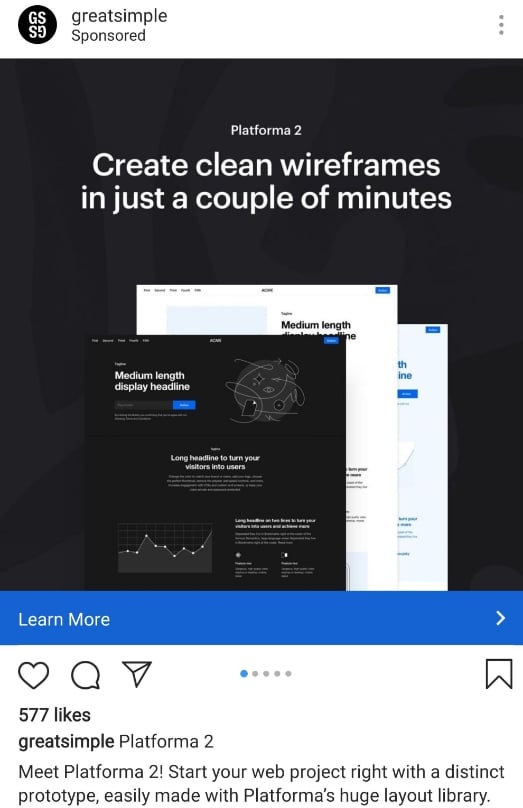 The future is mobile

(and

vertical)
More than 50% of traffic is mobile with mobile ads already making up 70% of the digital advertising space. This means you have literally no excuse to not optimize your ad formats and landing pages for mobile devices. Forget the classical desktop way of thinking and embrace the world of mobile advertising. While most mobile formats work great on desktop devices, the opposite is not true.
Taking into account that most ads appear in mobile feeds you should at least use square formats or vertical formats to maximise your visibility. Think ahead for your next photo or video shoot and make sure you have material to create mobile-optimized content like Instagram stories for example. The following example of Ikea shows how it's done right. This small video was not only made to be watched on a mobile device but specifically to be watched on Instagram. In 2019 you are going to prioritize content for mobile devices and specific online channels, not for desktop PCs. This also means adding subtitles for videos that contain speech. According to Facebook, 85% of Facebook videos are watched without sound. If you didn't include subtitles, people won't even start watching your video.
You don't get a second chance to make a first impression
The average user scrolls around 91 meters of feed with their thumb every day and is constantly scanning it for relevant content. The competition for attention is huge and you only have 1-2 seconds to create a first impression which is going to determine if a potential customer stops to hear what you have to say or swipes you into irrelevance. Put some thoughts into strategies to use the first impression to your advantage and hook people right away. To nail your first impression it is crucial to understand who your audience is and which message you want to send them. Working with static pictures makes it harder to stand out, so avoid using too much text and stock material. Instead, come up with a visual that grabs your audiences' attention, and integrate your core value in the image. If your offer is interesting for the viewer, they will use your CTA(Call-to-action) to get informed. 
While pictures can be very effective we suggest using videos whenever possible since motion is more attention-grabbing, especially when scrolling a static feed. The right thumbnail can grab the users attention, set the tone of the video and get people curious about what you have to show.
Pro tip for Instagram: If your video does not contain a thumbnail you like, put a custom thumbnail in the first 0,5 seconds of the video and it will be visible as the default thumbnail, but not in the video.
Big Ben is 96 meters high, 5 meters more than the average distance people scroll every day.
Make it snackable
Snackable means that you need to make short bits of content that are easy and quick to consume, like a snack. The hard truth is that most people won't watch your video for longer than 8 seconds. There is no point in creating 30-second videos that nobody is going to watch until the end.  Use the 1/5/8 rule to create short, fast, on-point content:
Use the first second to show your brand.

The first five seconds should deliver the main message. 

By eight seconds most people stopped watching.
Mobile consumers expect your content to be easy to access, easy to understand and on-point. Make your ads attention-grabbing, visually appealing, and emotional while being easy to digest.
The ideal ad is easily viewable on any device
(even
without sound) and motivates consumers to share and tag friends due to value being created.
Snackable content is most efficient when used in combination with remarketing to point viewers to bigger pieces of content. Most of the times it just comes down to the right planning and organization. Instead of creating one long video, try cutting it into smaller episodes that you can release gradually. Use retargeting campaigns to show the video to people who watched previous episodes to leverage your content and send people to bigger pieces of content.
Get experimental
Think of the process of promoting your product or brand as a journey, not as the goal.
The only way to guarantee successful social media ads is to constantly learn about your audience and improve your targeting and communication. Experiment with different channels, formats, designs, target groups and messages to gain insights about what works best for you. Constantly refine your message, your tone and your overall presence and try to have a conversation with your audience rather than a monologue.
Start by targeting your ads broadly and analyze the demographics of people who engage using tools like Facebook ads reporting or Google Analytics. Once you understand who is engaging with your content, try to adapt it to this audience. 
A great way to find out what works best is A/B testing. Try to integrate A/B testing as often as possible by using at least two different variations of your ads. Make sure you are only testing one element of the ad at a time to keep your findings relevant. You could, for example, experiment with two different description texts or two different images and analyze which one generates more clicks.
This data will help you develop a deeper understanding of what is appealing to potential customers and create more efficient ads.
Track your performance
In order to gain insights through experimen
ts, it is mandatory to monitor ad performance. Use tools like the Facebook Business Manager or Google Analytics to track the efficiency and the results of your campaign. Compare different campaigns and try to identify why they worked well or why they failed.
Start by focussing on one metric that you use to measure success and learn which data holds the answers to track performance.
If you are working on building a community and generating new followers, you could track which hashtags are bringing you new followers. In the Instagram app, you can find out which hashtags deliver the most engagement in the
"Post
Stats section" and the average number of likes and comments you get using different hashtags. This feature, however, is not available for every account which means you might need to use third-party services to analyse performance.
If you're trying to generate traffic for your website on the other hand, you would rely on Google Analytics by measuring which channels generate the most traffic, but also how long visitors from the different channels stay on your page and other behavioural data. 
For e-commerce businesses it is of the utmost importance to set up conversion tracking. It can be a pain to set it up, especially if you're inexperienced with websites but it is absolutely worth the effort. Conversion tracking allows you to see which channels generated sales for you, which you can use to optimize your strategy and prioritize channels that actually drive sales for you.
Try to find one or two channels that work for you and focus your efforts on optimizing your ads on these channels.
Conclusion
There are hundreds if not thousands of strategies you can use to reach your audience on social media and new ones are appearing every day.
Audience targeting is the most powerful tool social media ads have to offer and represent a huge opportunity for any business, you're no exception.
Learn to use these tools and keep your main focus on how to be useful and convenient for the customer and success will follow.