At Neontools, we're dedicated to empowering the world's most creative and innovative minds with the digital tools they need to achieve their goals.
That's why today, we're thrilled to finally announce the launch of NeontoolsPro, the next generation of our platform, designed specifically for professional marketers, creators, and agencies.
With NeontoolsPro, we've changed the infrastructure of the platform to take it to new heights. For Pro users, we're adding new tagging and filtering options and seamless integration with other marketing tools like Facebook Pixel and Google Tag Manager. We've crafted NeontoolsPro to meet the specific needs of our professional users.

Moving forward, NeontoolsPro will be your go-to plan if you want to manage your own clients through the platform. That's why, with the launch of Pro, we are changing the way we operate the platform. We are moving away from our current 100% free model and will switch to a freemium-like model instead.
Starting on April 3rd, free users will be limited to a maximum of 3 collections, links, and pages for each tool. For those who demand more, NeontoolsPro will keep offering unlimited collections and a host of other advanced features for just $15/month.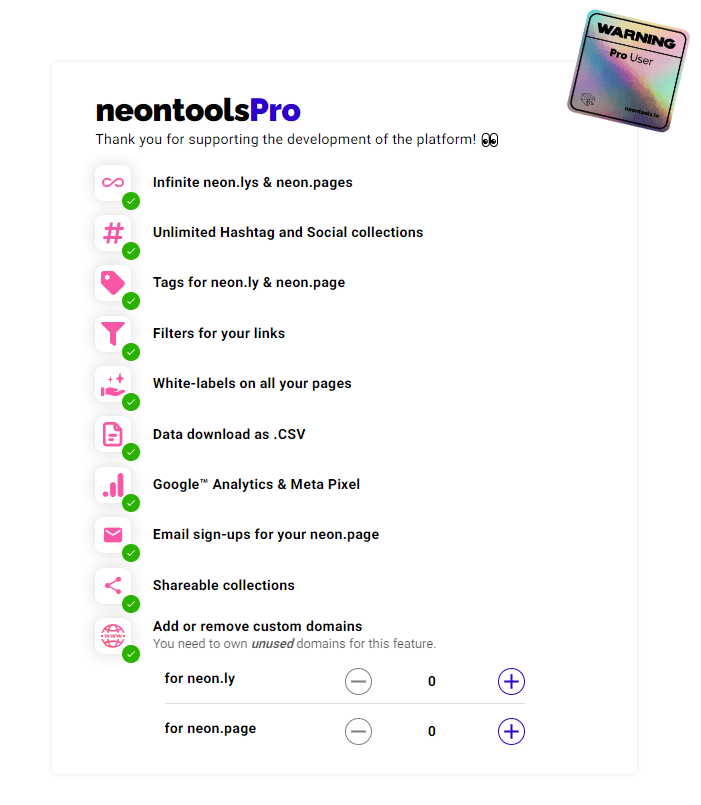 Besides unlimited collections, links and pages, under the new Pro plan, upgraded users can also expect:
New tags and filters for organizing links and campaigns
Sort your links and pages by client or campaign
New neon.page Email list signups
Collect Email addresses for your newsletter or Email list.
New Facebook Pixel and Google Analytics integration
Leverage your audience on other platforms and get more data about your clicks
Completely white-labeled neon.pages
All your neon.pages will be white-labeled and will no longer have our banner.
Publishable Hashtag and Social Audit Collections
Share the links to your collections with your clients, partners and co-workers
Customizable domains (5$/5€ extra per domain)
Add your own domains and replace "neon.ly" or "neon.page" with your URL
… and more.
To learn more about all the changes, please see our complete list of updates here.
Users who upgrade to Pro before April 3rd, can use the coupon code "HELLOPRO" to get 2 months off on the yearly plan.
With NeontoolsPro, we're proud to bring professional creators even more powerful tools to achieve their full potential, and we're eager to see the results they'll produce.
It's our commitment to sustaining the best suite for digital marketers and any creators that run online businesses.
Head over to neontools.io now, log in, and go Pro!
If this article was helpful, subscribe to our newsletter for more:
or follow us on Social Media