First things first
We know it's not easy starting with little resources which is why we want to help as much as we can along the way. Don't hesitate to ask questions in the neon academy classrooms or on our social channels.
Link your social accounts
To use each tool without limitations you first need to link your Facebook and Instagram accounts.
⚡ Due to updates from Instagram your Instagram Account needs to be a Business or Creator account to link it. Follow the instructions in this neon academy lesson to turn your account into a business account if you haven't done so yet.

Follow the following steps to link your accounts:
1. Click on your username in the top right, then choose "Social Links".
2. Click the "Connect with Facebook™" button.

3. Follow the instructions in the pop-up and select the Instagram Business Account and Facebook Page that you want to connect with neontools.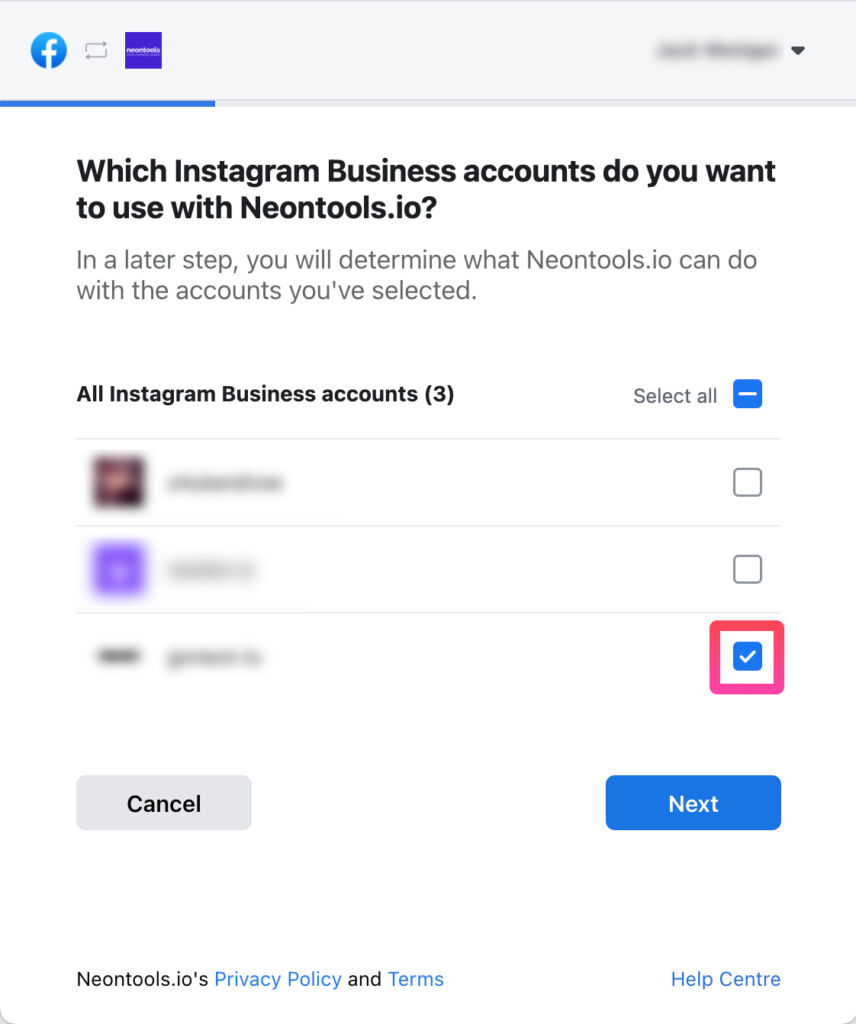 ⚡ Reminder: if your Instagram Account does not show up in the list, it means that it is not a Business or Creator account (yet). Follow the instructions in this neon academy lesson to turn your account into a business account.
4. After selecting your Account(s) and Page(s), agree to give neontools the permissions it needs to function properly and hit "Done".
5. You should now see your Instagram Account in your settings (if not, refresh the page). Click on the Account you want to link and you're done! 😁

I don't see my Instagram account but I've connected Facebook
If you do not see your Instagram account as described above, it is likely that your Accounts are not connected via the Facebook Business Manager. To do so,
(if you do not have a Facebook Business Account, create one)
then open "Settings" in the bottom left
click on "More business settings"
in the sidebar you'll find "Instagram accounts" in the "Accounts" section
click "Instagram accounts" and click the "Add" button in the top
follow the steps to connect your Instagram accout
Done 🙂 Go back to neontools.io and refresh the page (or reconnecting Facebook if need be)
You're good to go!
---
All tutorials
| | |
| --- | --- |
| | for specific answers |
| | set up your account |
| | URL shortener |
| | microlanding pages / link in bio |
| | add custom domains to neon.ly or neon.page |
| | influencer analyzer and collections |
| | for Instagram™ hashtags |
| | for Facebook™ Ads |
| | for social media campaigns |
| | to track your links |
| | create offline links |
| | for neon.ly & Social Audit |
Why we built neontools
We built neontools.io because we were overwhelmed by the number of marketing tools we were using to help our clients. The neontools.io platform therefore provides all these classic and essential marketing tools in one place.
Subscribe to our newsletter for more helpful content:
or follow us on Social Media