When should you use Social Audit?
Ever come across nice influencer accounts on Instagram but you're not sure if they are worth their money? Social Audit helps you analyze different metrics to gauge an influencer's potential. Once you find the good ones, you can also save them into a sharable collection for quick access.
The tool helps you to:
🔎 get an idea about the potential of an influencer's Instagram account by providing data about engagement, follower and post activity, used hashtags, see all their latest posts and even download them
🔗 create collections of Instagram accounts that you can share with your team or clients (let's be honest: it's cleaner than sending a spreadsheet with links)
New to influencer marketing? Read "Worth of Influencers – How much should you pay?" and "Influencer Marketing recommendations for brands and creators" on our blog to learn more!
How to use Social Audit
Analyzing an Instagram profile
Enter the username of the account you want to analyze into the search bar and hit the magnifying glass (1).

⚡ Please note that only Business or Creator accounts can be analyzed. In case you want to turn your own account into a business account, you can follow the instructions in this neon academy lesson.
Interpreting the numbers
After submission, the tool will load data for a 5-20 seconds and then spit out the data: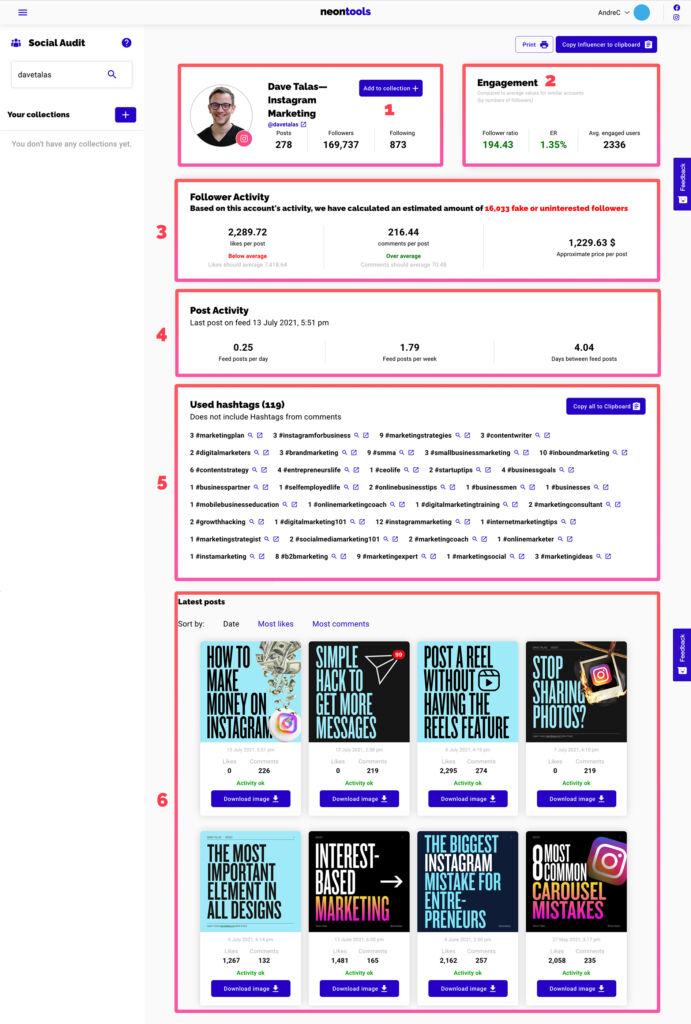 1. General account info and "Save to collection" button (1) (more on this later).
2. Account engagement (2):
Follower ratio

The relation between followers and accounts followed. The higher this number the better. It's a good indicator to see if the account uses a follow/unfollow tactic.

Average engagement rate

The average portion of followers that engage with each post. The higher the better. It's a good indicator to see if followers really take notice of the posts.

Average engaged users

The average number of users that engage with posts.
3. Follower activity (3):
Likes per post
Comments per post
Automated evaluation: Statistical evaluation of the profile based on the averages.
Approximate price per post: How much could they ask for promotional posts?
4. Post activity (4):
Last post
Posts per day
Posts per week
Average days between posts
5. Used hashtags (5):
These are the hashtags used in the captions of the feed posts. Scroll in the box to see them all.
Magnifying glass: Analyze hashtag in our Hashtag Analyzer.
External link button: Open the hashtag in Instagram™'s explore feed.
Copy all hashtags to your clipboard with the "Copy all to clipboard" button on the right
6. Latest posts (6):
Sort posts by date, most likes or most comments at the top
For each post you can:

download the image/video
click on "card": Opens the post in Instagram™
check the activity evaluation
Creating collections and save accounts
1. Create a new collection with the "+" button (1) in the sidebar.
2. To add accounts to to a collection use the "Add to collection" button (2).

1. Edit the title by clicking into the the title (1) on top of the page.
2. Sort by date, followers or engagement rate (2).
3. Add a note and stay organized (3).
4. To delete accounts from a collection, hover over the card. A delete icon will apear in the top right corner of the card (4).
5. These 3 icons (5) let you
copy a sharable link to this collection to your clipboard
duplicate the collection
delete the complete collection

Prefer video?
---
All tutorials
| | |
| --- | --- |
| | for specific answers |
| | set up your account |
| | URL shortener |
| | microlanding pages / link in bio |
| | add custom domains to neon.ly or neon.page |
| | influencer analyzer and collections |
| | for Instagram™ hashtags |
| | for Facebook™ Ads |
| | for social media campaigns |
| | to track your links |
| | create offline links |
| | for neon.ly & Social Audit |
Why we built neontools
We built neontools.io because we were overwhelmed by the number of marketing tools we were using to help our clients. The neontools.io platform therefore provides all these classic and essential marketing tools in one place.
Subscribe to our newsletter for more helpful content:
or follow us on Social Media